FinditinWorcestershire Breakfast Event: Assistive Technology Special
---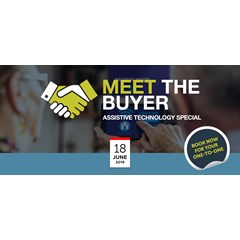 In Summary
18th June 2019
|
06:45 to 09:30
Part of WINN's extravaganza 'Great Things' - FinditinWorcestershire's breakfast meeting this month will provide an opportunity to meet the buyers and decision makers in assistive technology
Add To Calendar
In Detail
Our June event will be one for innovators, startups, project leaders and any organisation looking for partnerships for their innovative products and services.
The breakfast event on Tuesday 18 June, will be part of the Worcestershire Innovation (WINN) 'Great Things' extravaganza at Sixways Stadium, which brings together the brightest, best and most inspiring innovators and businesses from across Worcestershire for a packed day of creativity, collaboration and innovation.
The breakfast meeting will kick off the all-day celebration of innovation in the county at 7am until 9:30am.
We want buyers and visitors to get up close with the very latest, ground-breaking solutions in technology and help transform how social care is delivered in the future.
Book now to discover radical new approaches and explore the opportunities locally for collaboration and the supply chain.
Meet the Buyer
The use of assistive technology within social care environments is fast becoming of interest to the care market and covers a range of electronic equipment and services that can help people with physical, sensory or mental health difficulties continue to live safely and independently at home.

Plenty of organisations now look at using assistive technology to great effect in schemes like new housing to care for people with dementia and supported living accommodation.
Request a one-to-one by emailing info@finditin.co.uk
Accord Housing Group and WM Housing Group confirmed as buyers
**More to be announced shortly**
Presentations start from 7:20am from:
Worcestershire County Council Adult Social Care
Worcestershire Telecare, part of The Community Housing Group
Senecto Ltd
Medilink West Midlands
And more
And why not stay for the WINN event starting straight after FinditinWorcestershire at 9:30am!
'Great Things' - The celebration of innovation across Worcestershire
After our breakfast event there is an exciting lineup for the rest of the day.....Worcestershire innovators come together in an all-day event at Worcester Warriors' Sixways Stadium that will see dazzling presentations, informative workshops and lively conversation to demonstrate why Worcestershire is the hub of innovation.
9:30am - 5:00pm - Innovation Rules! Something for everyone, a day filled with inspiring and enlightening workshops – Book now at winn-hub.com to secure your place!
5:00pm – 8:30pm - The day will conclude with a WINN Wednesday event (on a Tuesday!?!) which will bring speakers from across the county to discuss the latest in tech opportunities across a range of sectors, the launch of the Make it Happen Challenge and the latest updates for innovators from the WINN team.
Alongside the talks and workshops you will find plenty of networking opportunities, interviews and panels to engage with or just bring your laptop along and co-work with Worcester's thriving creative & tech community at The Kiln pop up.
Open to all businesses, students, entrepreneurs and those of an inquisitive mind. Come along be inspired, share your stories and network with like-minded individuals.

Price
This event costs £15.00 + VAT per delegate
Location
Duckworth Suite
Sixways Stadium
Warriors Way
Worcester
WR3 8ZE