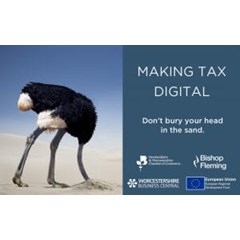 In Summary
13th December 2018
|
07:30 to 09:30
Don't bury your head in the sand! Are you ready to make tax digital?
Add To Calendar
In Detail
The 2019 overhaul in VAT obligations is the biggest change in tax in decades. This affects all businesses whose annual turnover exceeds the Vat threshold of £85,000.
To ensure that your business is compliant with the new legislation, Herefordshire & Worcestershire Chamber of Commerce is hosting a 'Making Tax Digital' event on Thursday 13 December at the Chateau Impney in Droitwich from 7.30 - 9.30am.
This event will be hosted by the Chamber in partnership with Worcestershire Business Central and Bishop Fleming.
Local businesses have repeatedly expressed concerns regarding the introduction of 'Making Tax Digital' and have suggested that they feel unprepared for the imminent legislative change.
This event will provide information regarding the software that firms will need to become compliant with the new legislation.
This event is free to attend but places are limited.
Please book via www.hwchamber.co.uk or call 01905 673600
Location
Chateau Impney, Droitwich, UK