Malvern Festival of Innovation
---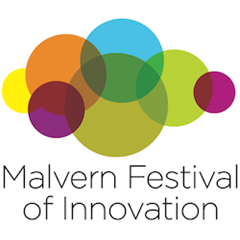 In Summary
7th October 2019
|
09:00 to 16:30
Across 7th - 12 October - A range of events for next generation innovators, creative careers and cyber security for SMEs
Add To Calendar
In Detail
Join the Malvern Festival of Innovation 7th - 12th October 2019 to discover what's coming next, how others are innovating and to showcase your own research and development.
We need new ideas to stay competitive, new technologies to improve lives and new insights to lead the way.
Listen to entrepreneurs and technology experts
Learn how businesses approach the future
Visit the exhibition
Network with speakers and join a Q&A
There will also be a formal dinner on the evening of Thursday 10th October (reservations via the website) and a family show on Saturday 12th October (tickets will become available from the Malvern Theatres box office).
Location
Various locations - see tickets