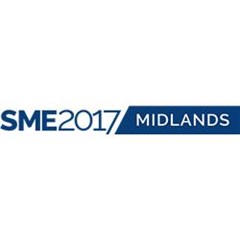 In Summary
3rd October 2017
|
10:00 to 17:00
Get ready for two days of learning, networking, innovation and inspiration at the SME2017 conference and exhibition at the NEC on the 3 & 4 October.
Add To Calendar
In Detail
Small and medium businesses (SMEs) in the Midlands are invited to meet the teams behind the business growth grants and support in the West Midlands and beyond. There will be finance and funding options to help businesses accelerate growth including the Business Innovation Programme and Business Growth Programme from Birmingham City Council.
SME2017 is set to welcome 150 national and regional exhibitors, and 105 speakers with the expertise and know-how to help businesses get smarter.
James Ashwood, Event Director of SME2017 comments, "We are proud to be partnering with the NEC and delighted to bring this exciting large-scale, 2-day, free to attend, business exhibition and conference format to the Midlands. Every SME business will benefit from attending. To grow a business, you need to know who can finance and fund that growth, 'Smart SMEs' make their operation faster and more efficient through innovative technology, and then win more customers through sharper marketing. We bring it all together at SME2017".
Support for the event is growing daily with speakers and partners confirmed from Birmingham City Council, the LEP Growth Hubs of the West Midlands, The West Midlands Chambers of Commerce, British Business Bank, Start Up Loans and key industry associations who are all showcasing their initiatives and growth help.
The SME2017 exhibition focuses on finance, funding, accounting, business technology/IT, outsourcing and marketing and will facilitate the biggest B2B networking opportunity of the year.
Register for updates and free tickets here
Two-day event:
3 October - 10am - 5pm,
4 October - 10am - 4pm

About SME2017
SME2017 is a new, annual, live business exhibition designed for small and medium business owners and operators from the Midlands.
SME2017 is organised by Platform Business Media Ltd, operated by veteran national exhibition organisers James Ashwood and Paul Dunne, who have organised some of the UK's biggest trade exhibitions including BETT, BVE, PLASA, RWM and TV Connect. Gavin Mason, former Accenture and EMC drives the technology side.
Location
The NEC, Birmingham B40 1NT