The Food & Drink Trade Show
---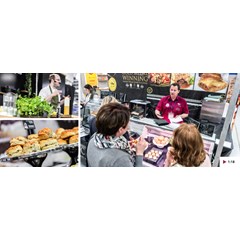 In Summary
2nd May 2018
|
10:00 to 17:00
A unique blend of inspirational speciality food & drink products, from a wide range of exhibitors; from the small and regional, to those who trade throughout the UK and internationally.
Add To Calendar
In Detail
The trade show for inspirational regional food and drink producers and suppliers - discover products from Worcestershire and surrounding areas. Meet passionate producers and hear their success stories.
There are live demonstrations and exhibition spaces available.
New for 2018, this show also offers local producers the opportunity to meet professional trade buyers. There will be a mix of buyers from independents, to those with multiple sites. They each have different criteria, and you will be able to indicate which level of buyer you wish to meet, before appointments are made.
For more information about sponsorship packages, exhibiting and attending simply click on the link below.
You can visit the show free of charge.
Opening times:
Wednesday 2 May 10:00am - 5:00pm
Thursday 3 May 10:00am - 4:00pm
Location
Three Counties Showground, Welland, Malvern, UK