Three Counties Defence & Security Expo 2018
---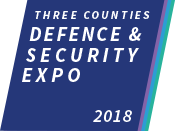 In Summary
31st May 2018
|
09:30 to 16:30
The Three Counties Defence and Security Expo (#3CDSE) is the region's leading expo for the defence and security industry.
Add To Calendar
In Detail
The theme is Innovation, with a focus on cyber security, hardware and vehicles, UAV and counter-UAV technology, communications and military procurement.
The event is unique amongst defence and security expos, in that it offers business to business networking with key decision-makers.
It includes a day-long programme of expert speakers and workshops and a major exhibition.
Networking breakfast ticket is £18.00 + Vat. Other ticket options are available.
Price
This event costs £18.00 + VAT per delegate
Location
Three Counties Showground, Welland, Malvern, UK