Betaden Tech Tuesday: Web 3.0 and AI
---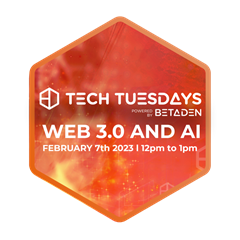 In Summary
7th February 2023
|
12:00 to 13:00
Take a deep dive into Web 3.0 and AI.
Add To Calendar
In Detail
Join BetaDen on the Tuesday 7 February, from 12:00pm till 1:00pm for the next instalment of #TechTuesdays.
Take a deep dive into Web 3.0 and AI, with the help of specialist industry speakers from IONOS, BlockMark Technologies and BOXPLAY.
Tech Tuesdays is our technology-focused online event series, allowing industry thought-leaders to provide their expert knowledge and insight to the technology community.
"Imagine a new kind of Internet that accurately translates what you type and understands what you say, whether through text, voice, or other media, and where all of the content you consume is more personalized than ever before. In the evolution of the Internet, you are about to enter a new era. It's been termed Web 3.0." (Source)
Register your FREE place for this virtual event by clicking the below link.
Speakers include:
Dr Adrian Burden, Chief Technology Officer at BlockMark Technologies Ltd
Alasdair Munn, Co-founder & Chief Learning Officer at BOXPLAY
Lawrence Jackson, Infrastructure and Technology Consultant at IONOS