WINNing Innovation - Pershore
---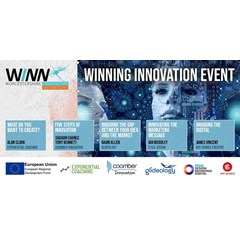 In Summary
8th May 2019
|
10:30 to 13:30
The regular WINN event is 'going on tour' to meet innovative local businesses across the county of Worcestershire.
Add To Calendar
In Detail
At this event, at Pershore Collage, there will be five speakers from diverse professional backgrounds who will share their insights on the key challenges that face innovators.
Innovation can sound elitist, but simply put; it just means doing something differently.
This event is an opportunity to be inspired, think differently, and gain practical tips to improve your business.
The focus will be 'Technology Readiness Levels' (TRLs) - a method used to determine the maturity of technological innovation. Topics include: mind-set, idea creation, prototype development and commercialisation.
Programme:
10.30 – 11.00 Welcome drinks & networking
11.00 – 11.10 'What Do You Want To Create?' Alan Clark - Exponential Coaching Ltd
11.10 – 11.20 'Five Steps of Innovation' Sharon Chance/Tony Bennett - Coomber Innovation
11.20 – 11.30 'Bridging the gap between your idea and the market' Gavin Allen - Glideology
11.30 – 11.40 'Innovating the Marketing Message' Ian Woodley - Stilo. Design Branding Digital
11.40 – 11.50 'Bridging the Digital' James Vincent - Hot Source Creative
11.50 – 12.00 Q&A
12.00 – 12.30 Lunch & refreshments
12.30 – 13:30 Guided tour

Location
Pershore College WR10 3JP