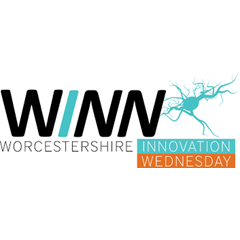 In Summary
13th June 2018
|
17:30 to 20:00
An initiative launched by WINN, that is being delivered in partnership with Worcestershire Business Central and Worcestershire based local district councils.
Add To Calendar
In Detail
The aim of these district events is to share and promote the innovative activities that are being delivered in the region and discuss current hot topics.
The event starts at 5:30pm - 8:00pm and refreshments will be provided.
Agenda:
17:30 - 18:00 Welcome Drinks & Networking
18:00 - 18:15 Idea Generation Semolina Pilchard, Blue Moon Creative
18:15 - 18:30 Protection (IP) Protecting the Unique, Indelible IP
18:30 - 18:45 Collaboration & Connecting Great Things, WINN
18:45 - 19:00 Funding Midlands Engine Investment Fund, British Business Bank
19:00 - 19:15 International Growth - Supporting International Growth & Development, DIT
19:15 - 20:00 Questions and Networking
WINN brings innovators together, acting as a catalyst to create connections and collaborations across the diverse business landscape of Worcestershire. WINN is a Worcestershire Innovation Programme formed by Worcestershire County Council and the Worcestershire LEP

Location
Evesham Football Club, Cheltenham Rd, Evesham, WR11 2LZ