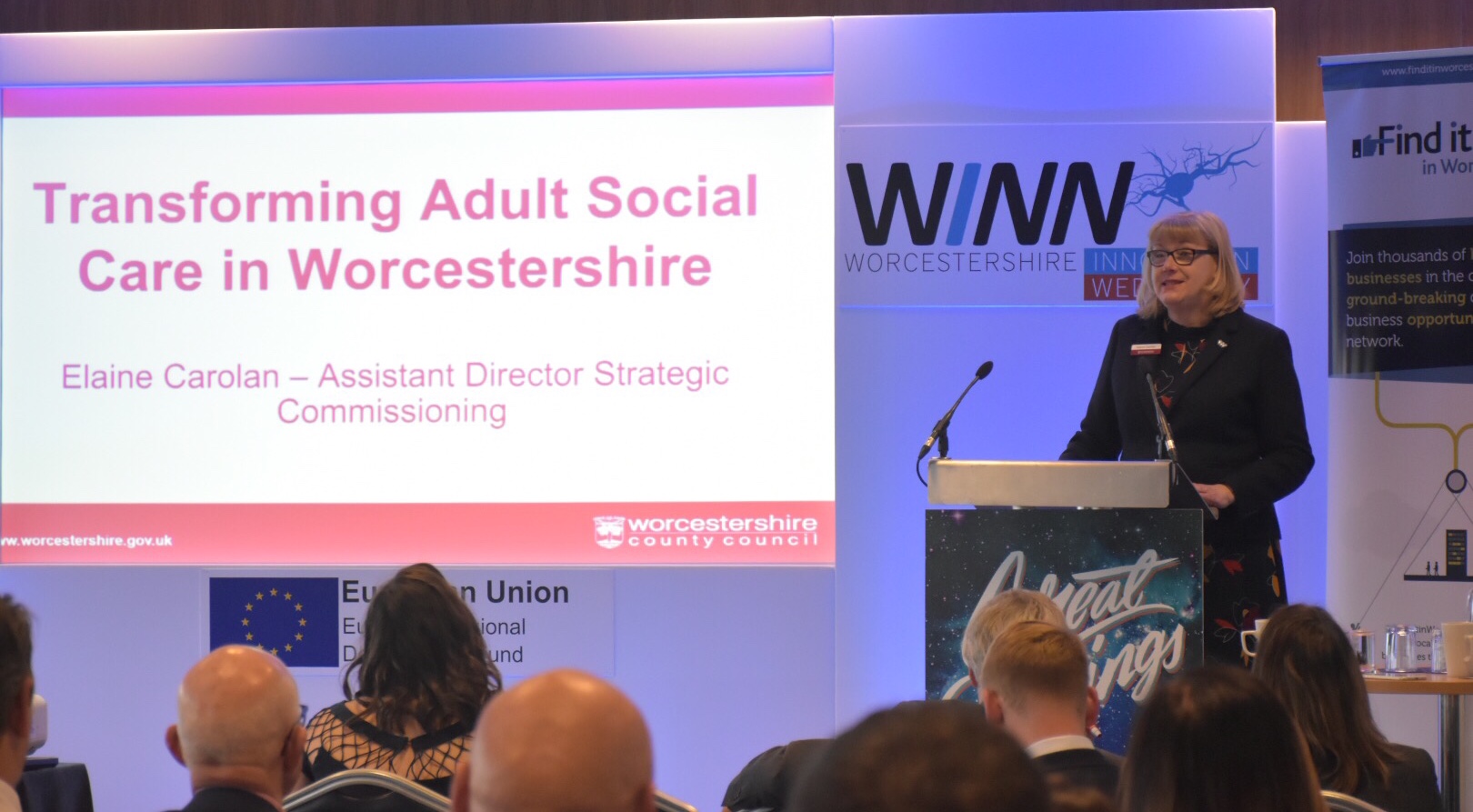 In Summary
At FinditinWorcestershire's breakfast event today (Tuesday 18 June), over 50 delegates heard from leading experts from the world of assistive technology for the care industry.
In Detail
Speakers included Rupert Lawrence, Head of Worcestershire Telecare and Chris Dyke and Joanne Mewis from Medilink West Midlands.
Worcestershire County Council's Adult Social Care commissioners were on hand to talk to attendees, and Elaine Carolan, Assistant Director Strategic Commissioning delivered a presentation about how adult social care plays an essential role in helping people to stay healthy and supported to live safely.
Elaine Carolan said: "Worcestershire's population is projected to increase by almost 30% by 2030, with most of the projected growth being amongst those aged 75 and over.
"We are facing a number of challenges, including increased frailty of older people and people with more profound disabilities surviving longer into adulthood, both needing more intensive care as they get older.
"We are looking at the development of extra care housing and supported living, particularly new technologies in care, so people needing extra help can really benefit from the use of a whole range of assistive technology products now available on the market."
The event presented the best of local businesses, including Evesham-based Senecto Ltd, who demonstrated its feature product 'Amba'. Steve Arthington, Operations Director, explained how the intuitive, touch-screen technology can help elderly users with dementia with clever audio and visual alerts, and bold icons and font sizes.
Rupert Lawrence from Worcestershire Telecare showcased a variety of innovative products in an Assisted Living Zone and explained how current and innovative assistive technology is supporting carers and those they care for.
Rupert said: "Over 1.7 million people are using telecare and assistive technology nationwide. The digital world is changing what is possible and changing the type of technologies people use and are used to.
"By focusing on specific needs, we can use technology to help people carry on living a full life and tailor this technology to meet communication needs.
"This could be the use of visual reminders, video calling for interaction and medication compliance and even cooking for themselves."
Medilink West Midlands rounded up the keynote speeches, with an overview of the support it offers businesses in the life sciences sector to innovate and grow. Chris and Jo explained how the West Midlands Academic Health Science Network (WMAHSN) Industry Innovation Gateway, delivered by Medilink WM, acts as a single point of entry for all medical and health technology and life science businesses who wish to engage with the WMAHSN. With comprehensive networks across the health and life science sector, the Industry Innovation Gateway provides essential connectivity to the business, clinical, academic, regulatory and finance communities, helping businesses to form new collaborative partnerships and to navigate the increasing complex health innovation landscape.
The breakfast event was part of the Worcestershire Innovation (WINN) 'Great Things' extravaganza which continued throughout the day with the theme of creativity, collaboration and innovation.
The all-day event provided further talks, workshops, interviews, panels and a perfect selfie opportunity with the WINN robot.