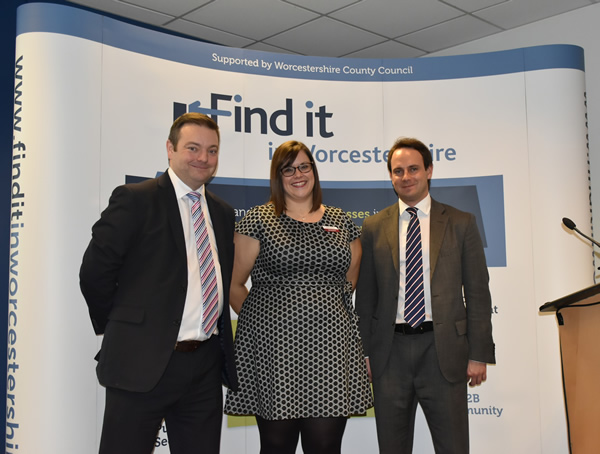 In Summary
General
|
17th January 2017
Worcestershire businesses learnt about the supply opportunities linked to the University of Worcester's Summer Works 2017 Programme and met the framework contractors on January 17.
This is a featured news article.
In Detail
Our first breakfast meeting of 2017 was an opportunity-packed University of Worcester Regeneration Special, which took place at the Ricoh Suite on January 17.
Over 150 local businesses were updated by Mark Evans, Assistant Director - Estates and Joe Stock, Capital Projects Procurement Officer at the University of Worcester on the exciting plans for its Medium Works Construction Framework, which has been developed to carry out routine construction and refurbishment projects around the campus.
Recent investment in new facilities has seen the university open two new campuses and 11 new buildings since 2009. The new framework will kick start a range of supply opportunities, valued between £300,000 and £5 million, for local sub-contractors and suppliers this year.
Introducing…the framework contractors
Attendees were also introduced to the six contractors, who all have local connections and are family-run businesses, who've been appointed to form the framework:
• Speller Metcalfe, Malvern
• Stepnell Ltd, Kidderminster
• Barnwood Construction Ltd, Gloucester
• Shaylor Group, Birmingham
• Novus Solutions, Birmingham
• E Manton Ltd, Birmingham
The event also saw construction-based businesses with products or services relevant to the works programme being given the chance to sit down, build relationships and discuss potential opportunities further with the contractors on a one-to-one basis.
Lorna Jeynes, Worcestershire County Council's Business Growth Manager, said: "As one of the fastest-growing university's in the country and one of the largest employers in Worcester, the University of Worcester is undoubtedly one of the driving forces behind the city's regeneration.
"This breakfast meeting was an invaluable opportunity for local businesses to get the latest first-hand updates from the university on its ambitious framework plans, as well as meet the key project partners who will be the driving force behind this pioneering programme of work.
"The works will generate a wide range of supply opportunities for the county's construction businesses over the coming weeks and months. This event was the chance for them to talk to the main project partners and find out more about how they get play a part in delivering the forthcoming construction and refurbishment work."
For details of opportunities connected to the Summer Works 2017 Programme, keep checking our Opportunities page. Today's presentation can be downloaded below.
(Pictured above: Mark Evans, Assistant Director - Estates and Joe Stock, Capital Projects Procurement Officer at University of Worcester, with Lorna Jeynes, Worcestershire County Council)