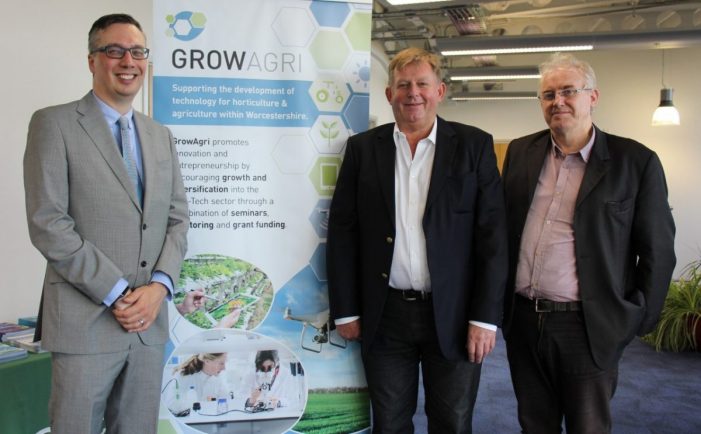 In Summary
General
|
1st December 2019
Pershore College announces its ERDF-funded project to help move Worcestershire businesses into new agri-tech markets
In Detail
GrowAgri Worcestershire, a joint bid between the college and the European Regional Development Fund, officially unveiled its programme to support the creation of new innovations and enterprises to benefit the horticultural and agricultural industries.
The launch was attended by a number of representatives from a variety of local agricultural, horticultural, tech and engineering businesses. They heard presentations from Professor Roy Kennedy, leader of the agri-tech programme at Pershore College, GrowAgri project manager Mark Harwood-Browne and had a tour of the Agri-Tech Research Centre.
GrowAgri Worcestershire is open to small to medium-sized Worcestershire businesses and aims to support business growth, increase productivity and the introduce new products, processes and services.
A unique combination of diverse soils and temperate climate means Britain has some of the best growing conditions for fruit, vegetable and ornamental crops in the world.
The industry is worth £3billion per year and the Vale of Evesham is a key heartland known for its production of soft fruit, plums, salad and vegetable crops.
Speaking at the event, Professor Kennedy said opportunities existed in the UK for extending the growing season, reducing food miles, using nutrients more efficiently and practical waste management. He added Britain grows half its vegetables but only under ten per cent of the fruit it consumes.
Mr Harwood-Browne set out the package of which includes grant funding and tailored business support – which will be available to help businesses and innovators to improve efficiency and productivity by developing innovative solutions in the new year.
"It was great to interact with so many different enterprises and to be able to introduce them to our spring and summer programme of events. The initial response has been really positive with many of the people looking to sign up to the GrowAgri project and attend multiple events," he said.
"As a grower of ornamental plants I look forward to seeing how this initiative could come up with ideas that can support a business like mine," he said.
You can email growagri@wcg.ac.uk or visit www.wcg.ac.uk/growagri or call 0300 135 7179 for more information.