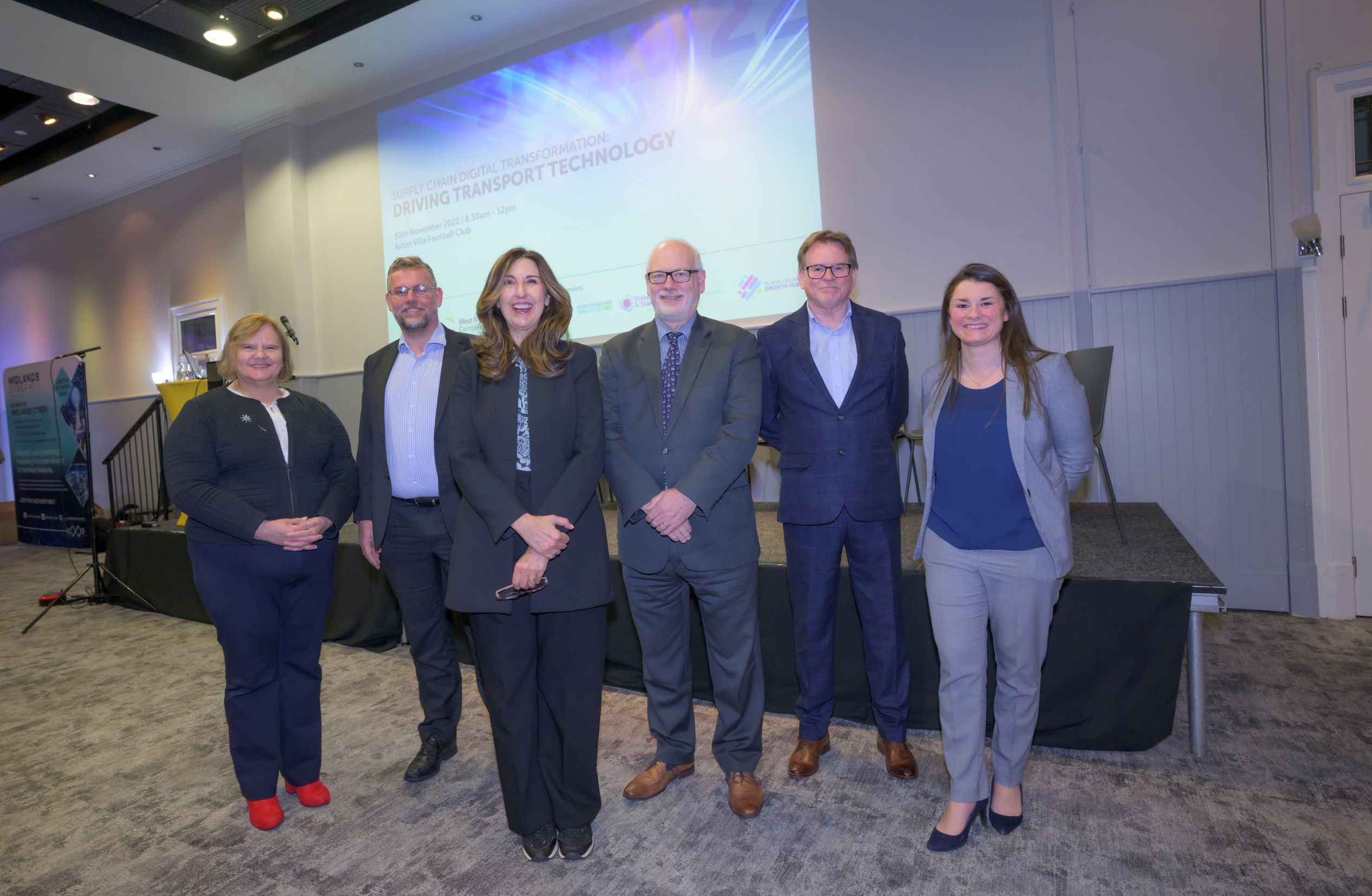 In Summary
General
|
8th December 2022
An expert in how artificial intelligence can transform the transport sector gave a fascinating talk at an event which focused on the importance of advancing the industry through the adoption of cutting-edge technology.
In Detail
The Supply Chain Digital Transformation: Driving Transport Technology event, held at Villa Park, was organised by FinditinCW, part of the Coventry and Warwickshire Local Enterprise Partnership (CWLEP) Growth Hub, on behalf of the West Midlands Made Smarter programme, the WMCA, and the wider West Midlands Growth Hubs.
The event heard from a range of speakers about the latest advances in road, rail, and other forms of public transport including headline speaker, Inma Martinez, Chair of the Expert Group at the Global Partnership on AI, a G7 agency - wowed the audience with how driverless cars could transform the way of life in the future.
She was joined by Dr Jamie Elliott, Innovation Lead for the West Midlands Combined Authority, who discussed how the Made Smarter programme is helping the West Midlands manufacturing and engineering sectors to forge ahead with digitisation and boosting their productivity.
Further talks were given by Professor Mark White, Technical Director for Alumobility, Charlotte Horobin, Region Director at Make UK, Rachel Eade MBE, Supply Chain Lead for Birmingham Centre for Rail Research and Education (BCRRE), and Dr. Nick Mallinson, Director of Business & Innovation at the Black Country Innovative Manufacturing Organisation (BCIMO).
The talks were followed by a 'Meet the Buyer' session which helped to build the foundations for long-term relationships between the buyers, Colas and Midlands Metro Alliance, with local suppliers of a huge range of products and services, ranging from rail equipment to traffic management products and steel manufacturing to engineering.
There was also a buzzing exhibition area, hosting stands for over 20 businesses and programmes, including Made Smarter, who as the headline sponsor, were present to talk to delegates about the range of support available, including accessing grants, advice on how to adopt the latest technology for their business, or how to register for leadership and management training.
Inma said: "It was a pleasure to speak at the Driving Transport Technology event and highlight the tantalising possibilities AI can bring to the transport industry.
"Advances are being made rapidly in driverless car technology, and they could be commonplace on our roads in the not too-distant future.
"The industry is also adapting its business models to compensate, with many looking at pure leasing rather than forcing consumers to buy an expensive driverless model.
"The West Midlands is well-placed to take advantage of this step-change thanks to its promotion of new innovations through organisations like Made Smarter, Alumobility, BCRRE, BCIMO, and many more."
Craig Humphrey, Managing Director of the CWLEP Growth Hub, said: "This was a fascinating event for all those in attendance, and highlights the incredible future the West Midlands has in transport despite the challenges of the pandemic and the cost-of-living crisis.
"It was a fantastic way for businesses to get inspired and then find sources of grant funding to help them adopt their own cutting-edge technology so their companies can directly contribute to the region's bright future."