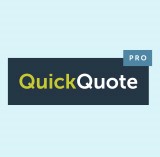 In Summary
General
|
25th January 2017
Our new module Quick Quote Pro could be the answer to managing your low value purchases - it's easy to use and essential for reporting.
This is a featured news article.
In Detail
Our Quick Quote Pro procurement module has been designed by procurement officers and professional buyers, and offers an online system for buyers to manage low value purchases for public and private sector organisations.
It is a cost effective and secure document exchange system with a reporting function essential for audit purposes.
It is currently being implemented by local universities, housing associations, local authorities and other large businesses to advertise the smaller items that make their organisation's tick.
If your procurement team needs to regularly review spend data and report on sustainability and the use of local business, this is the module for you.
This is just one of four ways that a Findit user can utilise our system to source local. We offer specific, bespoke supplier pages to contractors wanting to publicise what they are doing in an area and the associated supply chain opportunities. In addition, we link to the government portal, Contracts Finder to advertise the further West Midlands opportunities and finally give any member the facility to 'Post an Opportunity' for free on the site.
With over 7,500 members and £200m worth of opportunities posted on the site already, FinditinWorcestershire is the place to advertise and source local companies.
For further information on all the options, please contact a member of the team on 01384-563050 or email info@finditin.co.uk.