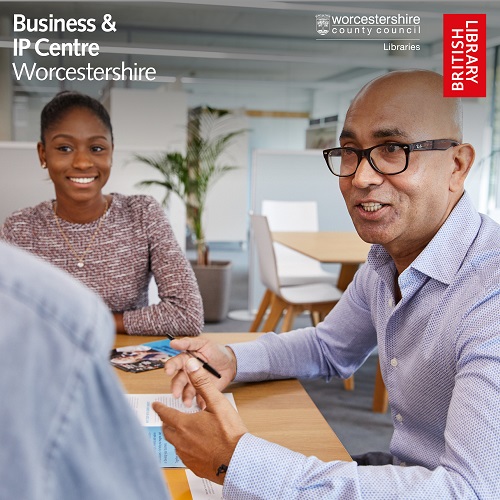 In Summary
General
|
4th August 2022
In the last year, Business and IP Centre (BIPC) Worcestershire has helped over 1,000 local entrepreneurs to start, manage and expand successful small businesses.
In Detail
Worcestershire Libraries now host Business & IP Centres in 6 main District libraries.
These are The Hive, Kidderminster, Bromsgrove, Malvern, Redditch and Evesham, as part of a wider national network led and funded by The British Library.
Since April 2021, over 1250 attendees received free business support from the Business & IP Centres across the county.
Advice and support was given to 457 pre-startups across the county, 673 Start-Ups and Small Business Enterprises, and 140 other people looking for business support.
Drop-in and one-to-one sessions held in six of the county's libraries continue to see a steady increase in visitors looking for guidance as they begin their business journey.
Customer feedback has been really positive as BIPC Worcestershire celebrates its most successful year, with comments from those who have benefitted:
"Amazingly supportive, understanding and helpful service - I cannot believe businesses can access so much support without charge - it's a game-changing service."
"I was particularly impressed with the pace and engagement of the session, which I felt was just right. There was good opportunity to make notes without being rushed, and some valuable takeaway points made. The small size of the group was beneficial as it enabled us to contribute in a more informal setting without feeling intimidated."
"Really interesting to learn about the research databases available from the library. The session was very well structured, and I will be using what I learnt soon. Thank you for organising."
Councillor Marcus Hart, Cabinet Member for Communities at Worcestershire County Council said: "We're really proud of the success so far with Business & IP Centre's in Worcestershire Libraries and the positive impact it is having on our communities. Our library network is equipped with a core set of resources, such as up-to-date market research and business databases. These core resources are brought to life by a tailored and highly individual programme of events, networking opportunities, workshops and one-to-ones, delivered in collaboration with local business leaders, role model entrepreneurs and community partners. The direct face-to-face support available at BIPCs can open up the path to entrepreneurship for anyone with a business idea, regardless of their background."
Free business networking and the opportunity to host Business Breakfasts is now available in Malvern library, The Hive, Droitwich and Stourport libraries.
There is also a regular programme of webinars, and workshops are available in popular business topics such as marketing, social media for business, cash flows, and intellectual property.
Liz Jolly, Chief Librarian, British Library, said: "At their heart, libraries are trusted spaces with professional staff who have a mission to connect people with information. From Glasgow to Brighton, our Business & IP Centres harness the power of libraries, bringing in expertise from the local community to help people from all walks of life turn an idea into a successful business.
Over the last year, the BIPC network has hugely outperformed its growth targets and helped to safeguard thousands of jobs through the ongoing challenges of the pandemic. We know that businesses started with the support of our libraries are nearly twice as likely to survive beyond three years than the national average. These remarkable results are living proof of the part libraries can and are playing towards boosting their local economies."
To find out how Business & IP Centres in Worcestershire could support you on your business journey, please visit the dedicated BIPC pages of the County Council website.