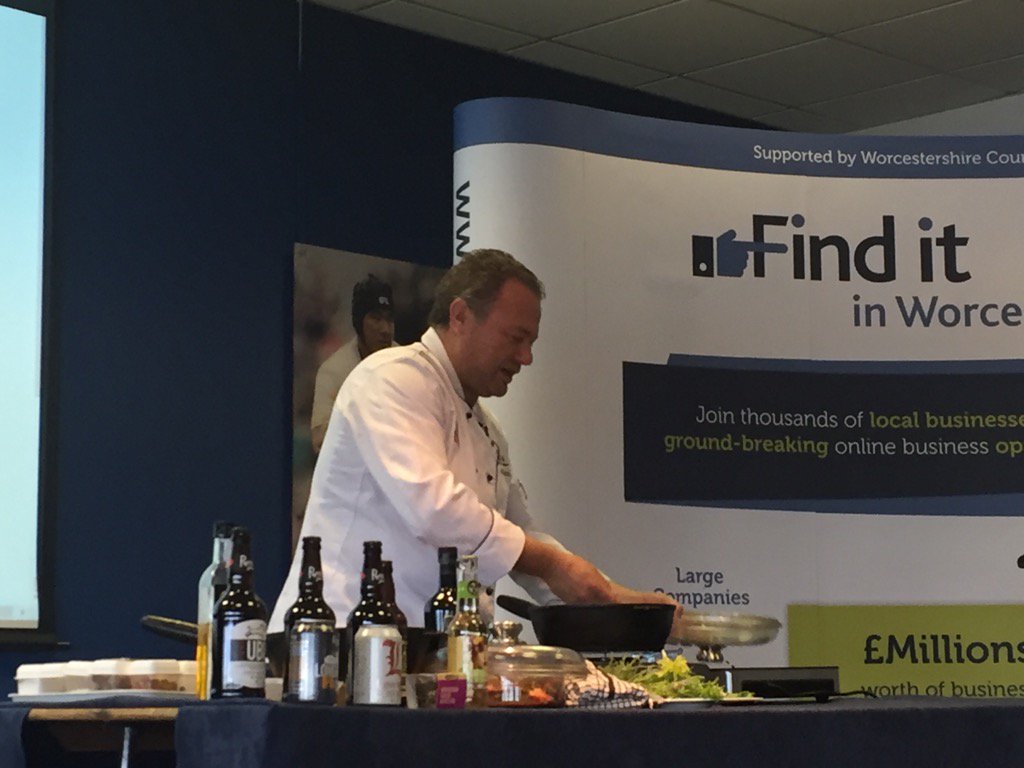 In Summary
Today, over 90 of the best local food and drink producers attended the latest FinditinWorcestershire breakfast event at Sixways Stadium in Worcester, where they learnt how to become retail ready from leading suppliers and retailers in the region.
In Detail
This morning, over 90 of the best local food and drink producers attended this month's FinditinWorcestershire breakfast event at Sixways Stadium in Worcester, where they heard information-packed presentations and tasted their way around our exhibition showcasing some of the region's finest food and drink.

The event was a huge success and enabled local producers and suppliers the opportunity to network with potential buyers from the sector, as well as helping attending businesses understand how to become retail-ready and prepare for sales growth.
Keynote speaker from A.F. Blakemore & Sons Ltd
A. F. Blakemore & Sons Ltd, a leading food, retail, wholesale and distribution company and the largest SPAR distribution centre in the UK, was a key speaker and addressed delegates about how to work with
regional buyers to maximise their business potential, explaining what shoppers want. Founded in 1917, Blakemore has grown to become one of the UK's largest privately owned family businesses. Celebrating 100 years of growth, the company's story is truly inspiring, becoming the UK's largest SPAR wholesaler in 1993. Demonstrating how big a company can grow, Patrice Garrigues, Commercial Manager explained how the company reached sales of £1.3 billion in 2017 and also launched a business programme supporting local suppliers.
Other inspirational speakers
Chef, Felice Tocchini, showcased his live cookery demonstration (as pictured above) showing attendees how to use fresh, local produce. Passionate about working with with growers and producers in Worcestershire, Chef Felice creates delicious food with an Italian twist at his two award-winning restaurants and cookery classes. He took time to meet with exhibitors and attendees, collecting a variety of ingredients to use in his demo.
Exhibitor, Pershore Brewery (pictured left), offered up its fantastic elderflower ale, 'Elder May', which Felice used in his delicious strawberry summer pudding - the bread of which was kindly supplied by Sixways Stadium.
Other inspirational speakers included the founder of Little Soap Company, Emma Heathcote-James who spoke about how to sell into retail and how she built a successful brand, The 2016 Entrepreneur of the Year's organic soap was the first of its kind to hit supermarket shelves, with Waitrose and Sainsbury's stocking her products.

'Retail ready is not a one-way street'

Ruth Dolby of Food Science Fusion Ltd discussed the science of managing food company growth and the routes to get noticed. Ruth, a Food Applications Specialist has a wealth of knowledge, beginning her career as a Cordon Bleu chef in London and working for Tesco for eight years.
Worcestershire Regulatory Services and Trading Standards, gave advice about food standards, sampling and labelling, as well as providing an introduction to the new Worcestershire Food & Drink Association (see more info below), championed by Chef Felice.

Lorna Jeynes, Business Growth Manager at Worcestershire County Council, commented: "Today has proved further that Worcestershire has some of the best food and drink suppliers in the country and the fantastic line-up of speakers has been simply inspirational. We hope this event has given food and drink suppliers the opportunity to link with potential buyers to provide retail opportunities they can take advantage of, and produced vital links towards collaboration in the area."
Putting Worcestershire's world class food and drink on the map

The new business-led Worcestershire Food & Drink Association is to put Worcestershire produce firmly on the map. More of Worcestershire's unique foods, drinks and produce could be sold in the UK and worldwide under the new move designed to help grow one of the county's major sectors.
Three mornings of business focus groups in locations across the county have kick-started the planning of the new organisation, which is being brought to life by a partnership of local organisations led by the Worcestershire Local Enterprise Partnership (WLEP). A new website is currently being planned and will be live by the autumn.