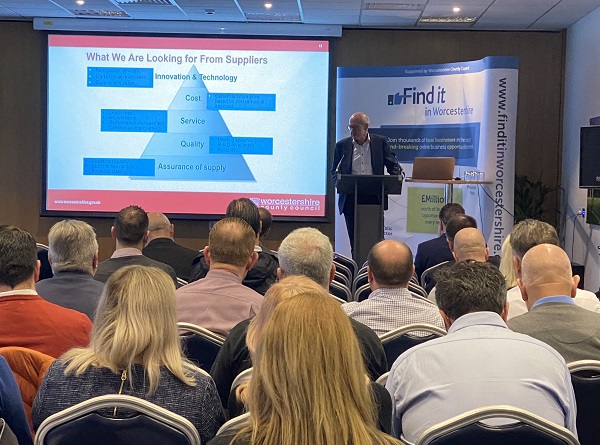 In Summary
General
|
19th November 2019
The last breakfast event of the year gives members an opportunity to meet some of the region's public sector buyers
In Detail
Attendees at FinditinWorcestershire's latest breakfast event today (Tuesday 19 November 2019) had the chance to meet some of the region's public sector buyers behind a variety of contracting opportunities. The 'Public Sector Procurement Special' event took place at Sixways Stadium and gave insight into the tender procedures used for the purchase of supplies and services by local procurement departments.
Keynote speaker, David Griffiths, Head of Commercial at Worcestershire County Council, gave a background to the County Council and what is involved in its buying process and supplier engagement practices.
He explained the importance of ensuring that the services the council procures improves the economic, social and environmental well-being of the local area. He illustrated how the buying process will change and any potential suppliers tendering for council contracts will need to consider various areas of social value as part of a tender.
Delegates then took the opportunity to ask questions in a Q&A session with panel procurement leads from Worcestershire County Council, Place Partnership Ltd, University of Worcester and Crown Commercial Service.
Kim James, Senior Procurement Manager at Place Partnership was on hand to talk about the exciting opportunities available from the organisation that manages the County Council's property function, and introduced its Hard FM Services contractor, GRAHAM. GRAHAM Group was particularly interested in meeting local businesses in a number of areas including electrical, heating, fire alarms and all other hard facility management services.
FinditinWorcestershire regular, Joe Stock, Senior Procurement Officer at University of Worcester met with new supply chain contacts in civil engineering, mechanical and electrical, professional development and more.
Both NHS Trusts in Worcestershire; Worcestershire Acute Hospitals NHS & Worcestershire Health and Care NHS were also on hand to speak to local businesses directly about products and services which could help the NHS save money and improve efficiency.
Place Partnership has been a long-time supporter of using FinditinWorcestershire to source local suppliers. Private one-to-one meetings at our regular events have generated over 32 expressions of interest to work with Place Partnership, a Worcester-based, award winning company which is publicly owned by six founding partner organisations - Hereford & Worcester Fire and Rescue Service, Redditch Borough Council, Warwickshire Police, West Mercia Police, Worcester City Council and Worcestershire County Council.
"All suppliers are encouraged to register on both procurement portals" said Kim James.
"We advertise on Worcestershire County Council's procurement portal, FinditinWorcestershire and as reliance on our suppliers increases with new opportunities it is more important than ever for local SMEs to know what work is out there."