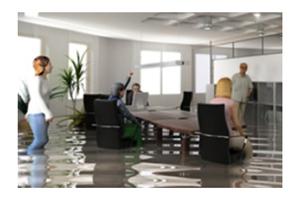 In Summary
General
|
16th March 2012
Local businesses can test their ability to manage a flood and a supply chain failure in a new online game, available for free until Friday 23 March
In Detail

Local businesses can test their ability to manage a flood and a supply chain failure in a new online game, available for free until Friday 23 March.

As part of International Business Continuity Awareness Week (Monday 19 to Friday 23 March), the Business Continuity Institute says it "is offering a way for businesses to develop their business continuity and resilience capability through an online incident simulation game.

"BC24 is a 15 minute single scenario game designed to test a business's ability to manage crises in a simulated environment, focusing on the consequences of a flood and supply chain failure whilst providing an excellent opportunity to introduce colleagues and partners to the issues of effectively managing an incident.

"The scenario is based on a flooding incident as well as a supply chain failure and requires a broader thinking perspective on the reputational consequences of the original incident and the way in which the incident is managed. It has been written by professional e-learning and gaming professionals and avoids the use of jargon, so anyone can play the game.

"BC24 is a straightforward proven exercise that is implemented on the web and therefore removes the requirement for investment in the development of an exercise.

"The game can be set up such that each invited player (up to six) can play when it is convenient to them. How long it takes to play their role can vary but 10-15 minutes is a common timeframe and 30 minutes for a single role is more than adequate. You can play the same role or different roles as often as you like.

"BC24 provides an excellent tool to support the embedding of business continuity management throughout a business and with partners, and can form an essential part of developing a resilience capability through exercising."

Play BC24 for free until Friday 23 March by clicking here. Good luck!