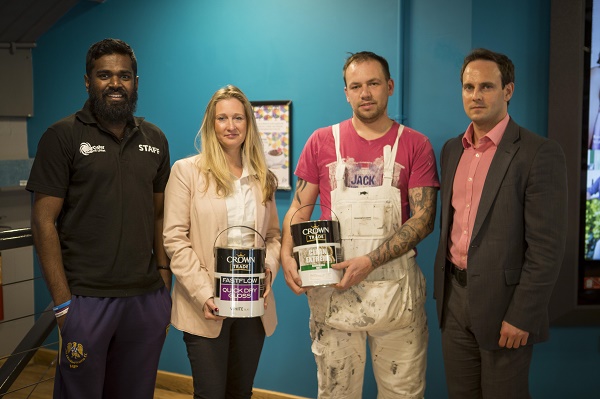 In Summary
FinditinWorcestershire member, Crown Paints has received top marks from the University of Worcester after transforming its Students' Union cafe, after meeting at a FinditinWorcestershire event in January
This is a featured news article.
In Detail
FinditinWorcestershire member, Crown Paints has received top marks from the University of Worcester after transforming its Students' Union cafe.
The Pear Tree Café, in the heart of the University of Worcester's St John's Campus, has been given a new lease of life with a vibrant new colour palette. Contrasting greys and a teal colour have been used to refresh the space, which Joe Stock – Capital Projects Procurement Officer at the University of Worcester – says had become tired.
Joe met Louise Hinett, Specification Sales Manager at Crown Paints, through a FinditinWorcestershire 'meet the buyer' event in January this year. The university used the breakfast meeting to highlight the plans for its Medium Works Construction Framework Programme, promoting the supply opportunities for local sub-contractors and suppliers.
He said: "The old colours were quite dark so we wanted to give it a refresh and encourage more people to use the Students' Union building during the day.
"Crown Paints Colour Service worked alongside our Students' Union representatives to choose a new colour scheme and it looks really good.
"FinditinWorcestershire's event was a great opportunity to meet local suppliers and we're glad we've used Crown Paints, Worcester on this project."
Hankinson Painting Contractors carried out the work, which took three weeks to complete.
Crown Trade Clean Extreme Scrubbable Matt has been used on the walls, with a teal colour being applied to the feature wall and a complimentary grey on the others, whilst the metal staircase was decorated with dark grey Crown Trade Fastflow Quick Dry Gloss.
Louise Hinett, said: "We used Crown Trade Clean Extreme Scrubbable Matt because of the high-level of traffic that comes through the café.
"After cleaning, the walls will return to an 'as new' condition, so this will mean that the University of Worcester's maintenance cycle will be extended.
"The café remained open throughout the redecoration, so Crown Trade Fastflow Quick Dry Gloss seemed like the perfect product for the metal staircase.
"It's fast drying and has a low odour so it meant that when people came into eat their lunch their comfort was assured."

The Crown Trade Fastflow Gloss system was launched two years ago and since then it has built up a following in the trade sector as a break-through innovation based on Crown Paints' 200 years' experience and heritage.
The system features advanced water-based technology, which means the product feels like a traditional solvent-based gloss, but is quick drying with the benefit of low odour. It's also been manufactured in line with Crown's renowned Breatheasy® formulation, which means it is 99 per cent solvent free.
Decorators can find out more by visiting the Crown Trade minisite at FinditinWorcestershire here.
Pictured above: Hemaka Pathiranage (Student Activities, University of Worcester), Louise Hinett (Specification Sales Manager, Crown Paints), James Badland (Hankinson Painting Contractors), Joe Stock (Capital Projects Procurement Officer, University of Worcester)