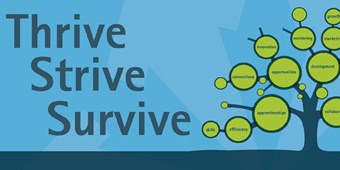 In Summary
General
|
23rd October 2017
Book your free place at Thrive, Strive, Survive on Tuesday 7th November 2017 at Chateau Impney
In Detail
The Worcestershire Business Central Conference will bring together businesses of all sizes and sectors from across Worcestershire, from start up stage and onwards. The conference will address subjects that businesses in the area have raised as key barriers to growth, such as; marketing, mentoring, finance, efficiency, innovation, branding and much more.
The first speakers have been announced and include Dom Portman from Fancy Dress Worldwide, who will talk about how he started his business in Worcester, the trials that he faced, and how he has grown his small company to be one of the most promising upcoming businesses in Worcestershire. Dom will also discuss how the support that he has accessed through Worcestershire Business Central is helping to drive his business forward.
The Worcestershire Business Central Conference will also provide attendees with the opportunity to network with a variety of businesses from across the county, as well as being introduced to the dedicated business directory members of Advised in Worcestershire- a useful online directory to find the best professional services to support your business in Worcestershire.
For more information contact the Worcestershire Business central team on 01905 677 888, or email conference@business-central.co.uk