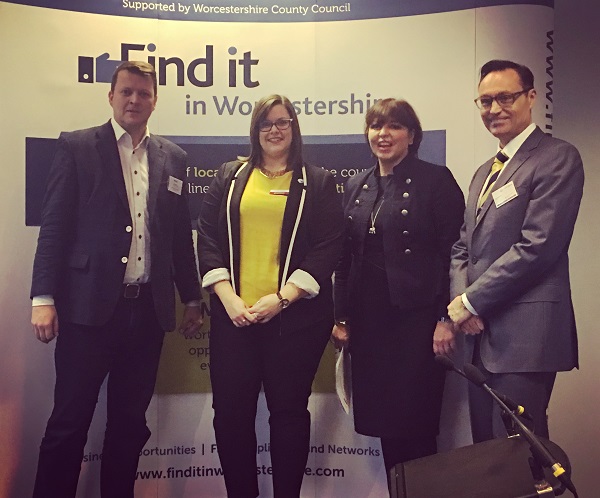 In Summary
General
|
21st February 2017
Worcestershire businesses got the chance to learn about the ins and outs of exporting from a team of experts, as well as two local success stories, at our event on 21 February
This is a featured news article.
In Detail
Worcestershire businesses got the chance to hear from two hugely successful local exporters at our exporting event on Tuesday, February 21.
Special guests, Gymshark and The Sunday Girl Company, spoke about their experiences of exporting and shared their top tips for businesses looking to grow within the UK and beyond.
Bromsgrove business, Gymshark, was created in 2012 by teenager, Ben Francis, and a group of his high school friends. It's grown from a screen printing operation in a garage, into one of the fastest-growing and most recognisable brands in fitness clothing. While, retro clothing brand, The Sunday Girl, was launched by Gaena Martin from her Kidderminster home nearly three years ago and currently generates 40% of its sales from overseas.
Expert international trading advice
Businesses were also given the chance to find out more about the benefits of exporting from Linda Smith, Head of the International Trade Team in Herefordshire and Worcestershire, who also provided valuable insight on what it involves.
Linda also discussed the support the Department for International Trade (DIT) can offer businesses, which is widely free of charge.
The Department of International Trade (DIT) has a network of experienced international trade advisers across the country - alongside staff based in UK Embassies and other Diplomatic Offices around the world - ready to provide local businesses with:
• Expert trade advice
• Market know-how
• Practical support
In addition to finding out more about the help and advice available to them from the DIT, businesses were able to share their queries with several international trade experts and an Export Finance adviser.
Lorna Jeynes, Worcestershire County Council, said: "While the idea of exporting may be appealing, many businesses can find the prospect of embarking on it somewhat daunting. However, there are numerous benefits to be gained from going down the exporting route, you only have to take a look at the likes of Gymshark and The Sunday Girl Company, to see the type of results that can be achieved.
"This event was designed to help businesses who may be considering exporting to explore what it's all about, speak to the right people, learn about the support that's available to them and provide them with the insight they need to step their strategic business growth up a gear – both at home and abroad."
Selling overseas has significant benefits for businesses, positively impacting on staffing, productivity, financial performance and longevity. For more information on free, impartial, confidential advice visit Department of International Trade today.
(Pictured above: Richard Chapple, Gymshark, Lorna Jeynes, Linda Smith, DIT and Doug Lawrence DIT)