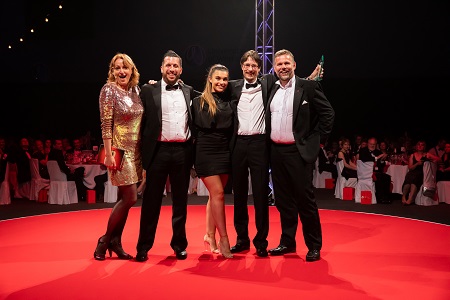 In Summary
Evesham-based creative agency, Areca Design, is celebrating winning the award for 'Best Use of Technology 2019' at the recent Herefordshire & Worcestershire Business Awards
In Detail
The prestigious, black-tie event held at the Worcester Arena on the 4 July, saw Managing Director, Mick Hurst and his colleagues receive the winner's trophy from celebrity host Celia Delaney and Craig Rogers from Tech Team – the category sponsors.
Herefordshire & Worcestershire Chamber awards judges were impressed with Areca Design's use of technology to engage the younger generation and educate them in historic environments using Augmented Reality (AR) and mobile apps.
Mick Hurst said "Tourism destinations are finding a whole new audience by delivering hidden historic content on a platform that the digital generation are so used to consuming information on.
"Both the young and older generation are enjoying the simplicity of using the smart phones that everyone has in their pockets to gain greater experience. As mobile AR becomes the main way to obtain more information at the point of interest we will keep innovating to make sure that our clients are seen to be at the leading edge of what is available.
"Winning 'Best Use of Technology' at the Chamber Business Awards is a fantastic honour, especially as our fellow finalists included multi-million pound backed technology businesses. After 10 years of research and development in the field of AR, it seems that my belief in the concept is now paying dividends. Due to the recognition we have received following these awards, I have already started to grow my team of designers and developers and may have to expand further in the near future."
Back in March 2019, Areca Design scooped first place in the 'Midlands Digital Communication Company of the Year' category at the Midlands Business Awards held in Leicester.
The firm has showcased its trademark Augmented Reality technology at a number of FinditinWorcestershire events, and most recently at June's 'Assisted Tech in Care' event with WINN, where Mick and the team exhibited alongside local medieval festival, The Battle of Evesham. Areca Design has supported the festival by designing a cutting-edge, augmented reality beer mat, featuring an animated Simon de Montford, founder of the English Parliament. The beer mat reverse brings to life a computer-generated version of the battle, where 15,000 men fought on Green Hill, on the northern edge of Evesham. 5,000 men were killed on the day, including deMontfort.
Visitors are invited to step back in time to the 13th Century when the battle is re-enacted on 3 & 4 August at a free to attend extravaganza.
If you'd like to support this action-packed weekend by volunteering or sponsoring, please contact Mick: 077887 621856 mick.hurst@arecadesign.co.uk
Pictured above (l-r): Celia Delaney and Craig Rogers, Tech Team, Agnes Dangreaux, Mick Hurst and Jamie Elliot, Areca Design