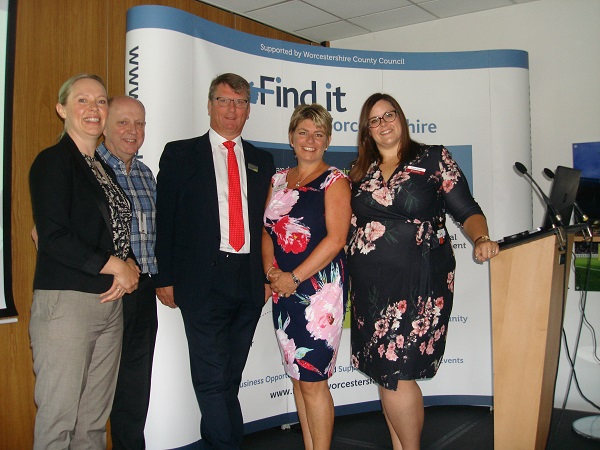 In Summary
Small, local businesses were given advice and guidance this morning (Tuesday 17 July 2018) at FinditinWorcestershire's annual Food and Drink Special: Recipe for Success, at Sixways Stadium.
This is a featured news article.
In Detail
The event gave food and drink producers and those looking to diversify their business an opportunity to hear from and engage with key organisations that can support their growth ambitions and provide supply chain opportunities.
Scott Whitaker, Branch Manager at Waitrose Worcester opened the event and explained how the supermarket champions regional suppliers who offer quality ingredients and appropriate packaging, as well as traceability and relevant accreditation.

"SALSA is a UK food safety certification scheme for smaller producers" said Scott Whittaker. "Waitrose fully endorses the principles of the scheme which is designed to offer both mentoring and auditing to ensure safe and legal products, giving Waitrose assurance of product compliance.
"It is important to us that we have a local flavour on our shelves but equally important is that the businesses know exactly what they need to do to become retail-ready for any supermarket."
Bonnie Joplin, SALSA's Development Manager was on hand to explain everything about the scheme, which is affordable and ensures that food from small and micro businesses is consistently safe.

Local success story, The Friday Beer Company Ltd presented at the event explaining that after securing funding from the Worcestershire Business Loan Fund it was able to tap into new supermarkets. Waitrose was won over by the firm's bottled range, which can be found at the Worcester branch managed by Scott.
Gerald Williams, one of its three directors, was delighted to join the list of the supermarket's local stockists, which also boasts local water producer Holywell Spring Water and a chutney-maker, Asiri Foods based in Malvern.
He said, "It was our aspiration to scale up the business and increase our brewing capacity. Although our manual bottling method could process up to 1,500 bottles per day, this wasn't fast enough, and we realised we needed to improve this.
"It was at this point that we approached the Worcestershire Business Loan Fund through BCRS Business Loans. They were able to provide us with a business loan to secure our cashflow situation. As a result, we now have the capacity to produce up to 4,500 bottles per day. We would definitely recommend the Worcestershire Business Loan Fund and BCRS Business Loans to any growing business."

Angie Preece and Lorna Jeynes at BCRS Business Loans gave further insight into the fund, which supports the growth of viable businesses, offering loans from £10,000 up to £50,000 over a three-year term.
For more information about the Worcestershire Business Loan Fund please contact Angie Preece, Business Development Manager by emailing angie.preece@bcrs.org.uk
Photo: Bonnie Joplin, Scheme Development Manager at SALSA, Gerald Williams, Owner of The Friday Beer Company Ltd, Scott Whittaker, Branch Manager at Waitrose Worcester, Angie Preece, Business Development Manager at BCRS Business Loans and Lorna Jeynes, Business Growth Manager at Worcestershire County Council.