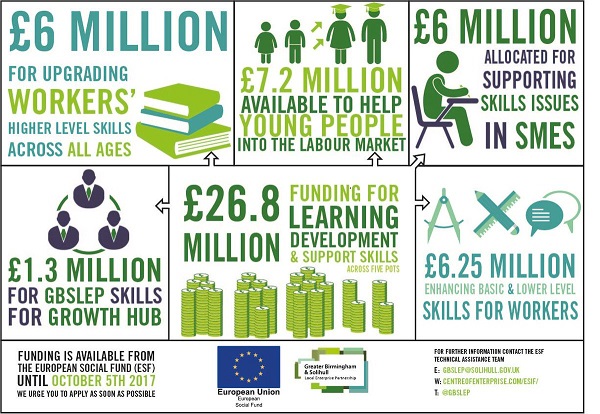 In Summary
General
|
27th September 2017
Funds worth £26.8 million are on offer to support skills and learning development across Greater Birmingham & Solihull but you only have until 5 October!
This is a featured news article.
In Detail
Organisations and providers across Greater Birmingham & Solihull are being advised to take advantage of regional funds totalling £26.8 million before the deadline for applications closes on 5th October.
The European Social Fund (ESF) programme – which focuses on improving employment opportunities for the local population – has launched funding packages across a variety of sectors. Funding is available to integrate more young people into work, with a strong focus on encouraging those who are not in education, employment or training (NEET) or individuals who are at risk of falling into this category. It is also focused on upskilling and re-skilling the area's existing workforce.
Applications for ESF match funding are available across the following areas:
Sustainable Integration of Young People into the Labour Market
Higher Level Skills: Enhancing equal access to lifelong learning
Basic and Lower Level Skills: Enhancing equal access to lifelong learning
Improving the labour market relevance of education and training systems: Skills for Growth Hub development
Enhancing equal access to lifelong learning: Greater Birmingham and Solihull Skills for Growth Hub – Skills Training Response fund
Andrew Cleaves, Greater Birmingham & Solihull Local Enterprise Partnership (GBSLEP) Lead Board Director for Employment and Skills, said:
"These funding packages provide opportunities for organisations across Greater Birmingham & Solihull to help develop skills and drive productivity that allow us to compete on a global scale.
"Building on the GBSLEP's Strategic Economic Plan, up to £27 million worth of European funding is available to apply for until 5th October to improve the job prospects of the region's young people and upskill those currently in work.
"For those organisations who wish to access this funding, we would encourage them to contact the ESF Technical Assistance Team for support in the development of their projects. In line with the GBSLEP SEP this funding will help contribute towards the 6000 firms that will be supported between now and 2020, which will boost the local economy by up to £1.5 billion."
For more information about the ESF funding available, email gbslep@solihull.gov.uk or click here.