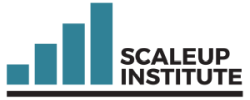 In Summary
General
|
8th August 2017
The ScaleUp Institute wants to help businesses with the barriers that may be stopping them from achieving growth
In Detail
The ScaleUp Institute works to make the UK the best place in the world for a business to scale up and grow.
To do this it wants to understand what has been important to local business' growth to date, as well as what barriers your business currently faces when you try to grow.
It wants to know what you think is the most critical support that you need from the UK private and public sectors to help you to continue to scale.
Please take the time to complete a short survey. It only takes 15 minutes and completion is required by 1st September 2017.