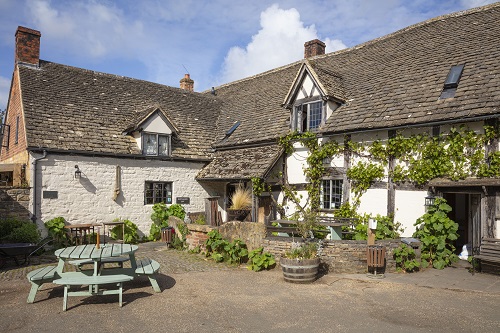 In Summary
General
|
22nd September 2022
After a summer of unprecedented weather, and heightened public concern about the climate, The Fleece Inn at Bretforton in Worcestershire and National Trust are working together to transform this historic pub into a space dedicated to conversations about climate change.
In Detail
Between 26 September and 2 October, the hostelry will be temporarily known as The Green Man and will be home to a wide range of activities, designed to stimulate climate-based discussions.
From sustainably produced drinks to informational beermats, everything will be designed to prompt conversation about the realities and opportunities of moving to net zero for individuals, families and communities.
It marks Great Big Green Week, the UK's biggest ever celebration of action to tackle climate change.
Nigel Smith landlord of The Fleece Inn said 'This is a wonderful opportunity to make this historic pub, located at the heart of a vibrant Worcestershire village community, a host venue for discussions and conversations on issues that resonate on a global scale.
He continued 'We believe that this is a UK first, we aren't aware of any other pub being transformed in this way. It's a very exciting project to be involved in'.
Joel Silver, Climate Campaigns Manager for the conservation charity said 'Climate change is the single biggest threat to the precious landscapes and historic houses we care for – and one of the most powerful things we can do, as individuals, is to talk about it. This is the idea behind The Green Man; giving people an opportunity and a space to have climate change conversations with their friends, family and local community.
He continued 'The climate crisis can feel overwhelming, but the small actions we take as individuals, and the conversations we have with each other, can help achieve big changes and show governments and businesses what kind of action is needed'.
Each day of the residency will see a different mix of climate experts around the pub – to answer questions and listen to suggestions – and a wide range of creative, climate-themed events, from product tasting to folk music, inviting everyone from the local and wider community to get involved.
Daily schedule of events and activities:
Monday 26th: 18.30 - 19.30 Climate and Chips:
Climate and Chips:

Join us for the soft launch of The Green Man residency for a casual chat about climate change over a bowl of chips. https://buytickets.at/fleeceinngrasroots/767901
Tuesday 27th: 19.00 - 20.30
The Green Cabinet:
Hear how Purity Brewing, Shakespeare Distillery and Tom Cumberland are creating local, low-carbon drinks. Hosted by The Fleece Inn's very own Nigel Smith… with free tasting.
https://buytickets.at/fleeceinngrasroots/767906
Wednesday 28th: 19.00 - 20.30
Retrofitting Historic Houses
Learn about making historic houses climate friendly and what you can do in your home, with presenters including Charlie Luxton and The National Trust.
https://buytickets.at/fleeceinngrasroots/767907
Thursday: 20.00 - 22.00
Folk Night
A night of folk music and poetry, featuring The Fritillaries & Colin Pitts. https://buytickets.at/fleeceinngrasroots/767908
Friday: 20.00 - 22.00
Climate change has never been a laughing matter…until now. Join us for a night of climate-focused comedy, with comedians Anna Dominey and Suse Steed.
https://buytickets.at/fleeceinngrasroots/767909
Saturday 1st: 14.00 - 17.00
Community Celebrations
Come and meet local people who are helping to tackle climate change - including speakers from National Trust, Worcester Repair Café, local climate action groups and more.
With entertainment from the Silver Brass Band and Pebworth Morris Dancers.
All events are free to attend, tickets can be accessed via the relevant links.