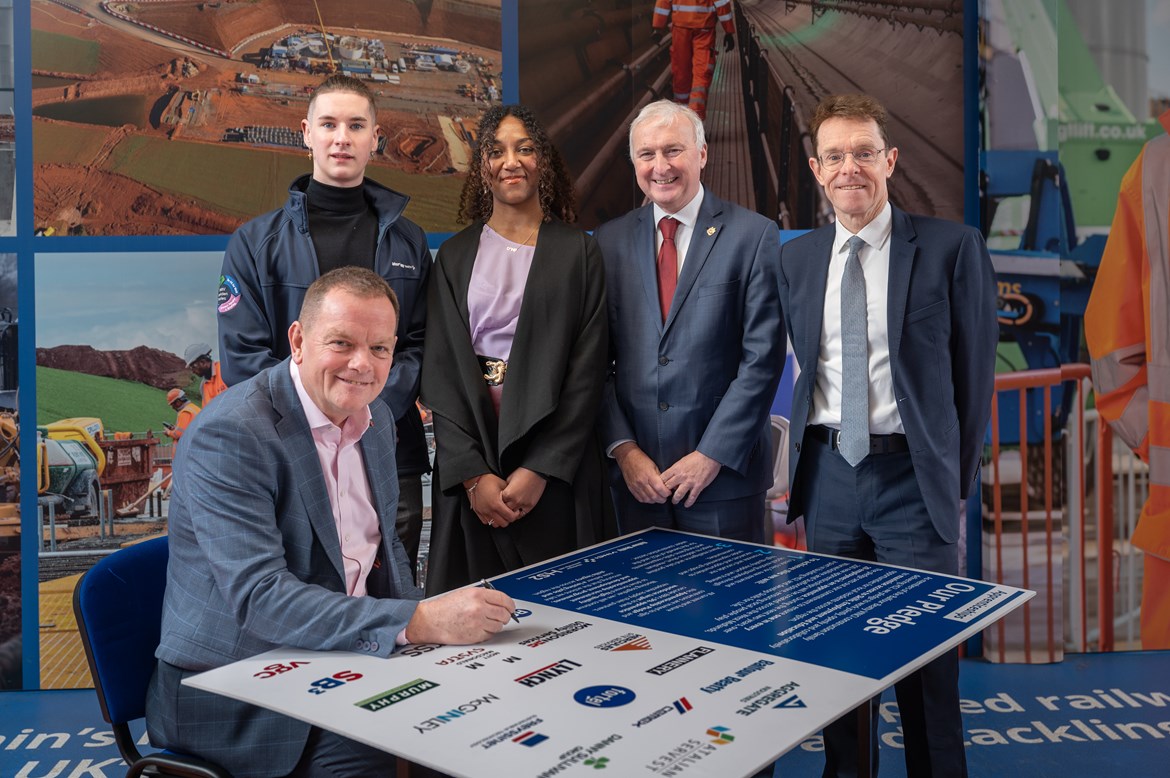 In Summary
General
|
6th February 2023
The West Midlands is set to benefit from yet another HS2 jobs boost, after it was announced today (6 February 2023) that over 200 new apprenticeship jobs are coming to the region.
In Detail
The commitment was sealed as 20 contractors, working on behalf of HS2's construction partner Balfour Beatty VINCI (BBV), came together on the first day of National Apprenticeship Week to sign a Pledge promising to invest in upskilling 200 more local people.
BBV also announced today that it will begin recruiting for over 40 new apprentices, building on the 165 apprentices it has already employed to support HS2's construction locally. Opportunities include apprenticeships in civil engineering, quantity surveying, information management and document control.
9,000 people are already helping to build HS2 in the region, almost a third of the entire workforce employed on the project. The news that even more new career opportunities are set to be created in the local area was welcomed by the region's Mayor.
Andy Street, Mayor of the West Midlands said: "HS2 has the potential to have a transformational impact here in our region and its construction is already supporting thousands of local jobs.
"The employment opportunities created by HS2 are significant and I'm pleased to see businesses winning HS2 contracts are stepping forward to ensure local people benefit – including this latest news announcing 200 more apprenticeship jobs."
"I cannot wait to see lives changed for the better in the months and years ahead."
Over 400 businesses based in the West Midlands have now won work on HS2, and BBV's 'Top 20' suppliers came together today with the promise that they will ensure at least 5% of their total workforce are apprentices. The commitment guarantees that at least 200 new apprenticeship jobs will be created before the end of 2024, with recruitment opening today for the first 95 roles.
With another huge year of construction ahead, BBV's supply chain are seeking local talent to fill a broad range of apprenticeship roles, with both office and site-based opportunities, ranging from level 2 right through to level 6. All jobs will be based in the West Midlands, North and South Warwickshire and Staffordshire.
In readiness for the next giant tunnel boring machine's take off, which launches from Birmingham later this year, Tunnelcraft is recruiting for ten tunnelling operative apprentices who will join the team tasked with excavating the 3.5mile twin bore route between Washwood Heath and Water Orton.
Mott MacDonald and Systra, a Design Joint Venture working in partnership with BBV to deliver HS2, is also beginning its search for digital design and business administration apprentices, while Flannery is recruiting for more plant operative apprentices.
HS2 Ltd also confirmed today that it will recruit 21 new apprentices, 15 of which will be based at its flagship headquarters in Birmingham city centre. There are opportunities to join HS2's project management, HR, business administration, procurement, land referencing and surveying teams.
Cllr Ian Ward, Leader of Birmingham City Council said: "The people and communities of Birmingham are already reaping the rewards of HS2 and today's welcome announcement underlines the huge contribution this project is making to our city economy.
"Balfour Beatty VINCI and their suppliers are helping to deliver much-needed skills and opportunities for our HS2 generation and these apprenticeships will transform the lives and life chances of people across our city region."
In total, HS2's construction is set to support at least 300 new apprenticeship roles, with two thirds of the jobs based in the West Midlands. Over 400 talented apprentices from the region have already begun their career journey on HS2, and today's announcement shows the jobs boost generated by HS2's construction is showing no sign of slowing down.

For details of all today's apprenticeship job vacancies and for more information on how to apply, visit hs2.org.uk/careers