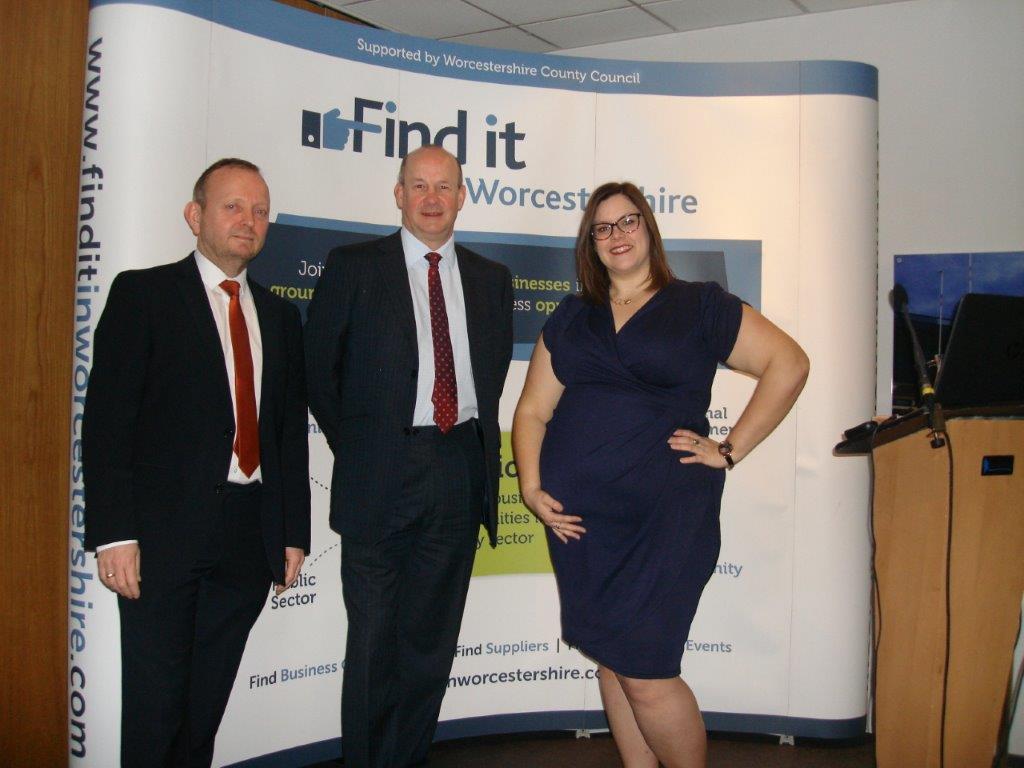 In Summary
General
|
19th March 2019
Businesses across Worcestershire were offered the opportunity to meet Alun Griffiths (Contractors) Ltd today (Tuesday 19 March 2019).
In Detail
The 'Meet the Buyer' breakfast event held at Sixways Stadium, gave local businesses the chance to meet Worcestershire County Council's Infrastructure Engineering Term Contractor, for its major infrastructure improvement programme in the region.
Over 70 businesses met with directors Richard Bruten and Richard Tidmarsh alongside their procurement teams.
The buyers were all keen to meet various local firms offering services ranging from site clearance and scaffolding, to traffic management and landscaping.
The Abergaveny-based firm also has the contract for the final phase of the Southern Link Road.
One of the key improvements in Worcestershire is currently in progress is the scheme to fully dual the A4440 Southern Link in Worcester from Junction 7 of the M5 to Powick Roundabout. The final phase of the scheme is about to begin.
Richard Bruten, Major Projects Director and Richard Tidmarsh, Operations Director outlined the current road infrastructure works in Worcestershire and detailed how they hope to work with more local businesses.
Richard Bruten, said: "We attended a similar event held by FinditinWorcestershire in April last year, which produced a number of successful working partnerships with local firms. We wanted to repeat the meet the buyer session again this year with a real focus on the county council's Infrastructure Engineering Term contract.
"The work will provide a whole range of supply chain opportunities for local businesses."
Worcestershire County Council wants to see local firms benefit from the work that Alun Griffiths (Contractors) Ltd is carrying out on its behalf.
Lorna Jeynes, Business Growth and Engagement Manager at Worcestershire County Council said: "This is an exciting time for the county which will see its key roads producing new connections for major economies and supply chain opportunities for local businesses.
"Today's event was a unique chance for local businesses to get on board with some of biggest road construction projects Worcestershire has seen for decades."
The event revealed more about what supply chain opportunities will be available in a series of one-to-one meetings with buyers from Griffiths. Founded in 1968 and still privately owned, Griffiths is one of the leading civil engineering and construction contractors working in Wales, the English border counties and the West of England.
Its main areas of expertise are highways and bridges, highways maintenance, surfacing, rail, water management and urban regeneration.
It has been awarded the fourth and final phase of the A4440 Worcester Southern Link Road contract and will work on other infrastructure works for Worcestershire County Council consisting of transportation, highway improvement and major structure projects, including its Infrastructure Engineering Term Contract.
The improvement programme in Worcestershire has covered projects like Hoobrook Link Road and Worcester Six Offsite Highways.