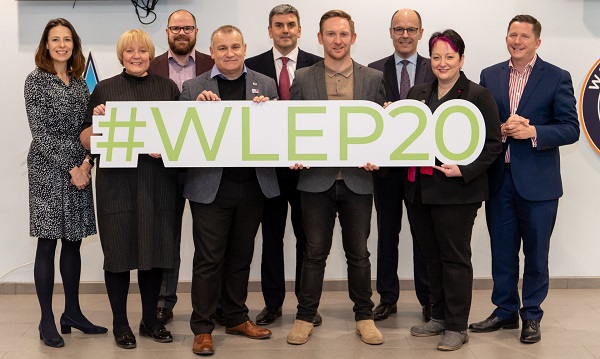 In Summary
General
|
31st January 2020
Business leaders from across the county joined the Worcestershire LEP team for the launch of the Worcestershire LEP's 2020 Annual Conference.
In Detail
Over 400 delegates are expected to attend this year's conference from 8:30am to 1:00pm on Tuesday 31 March 2020, which will take place at the University Arena, Worcester for the first time.
Leading figures in business had the exclusive opportunity to meet with this year's event host and presenter, Richard "Hursty" Hurst to celebrate the launch of 2020's conference.
Hursty will be joined at the #WLEP20 conference by a number of major business representatives from across Worcestershire and the UK.
This year, attendees will be able to personalise their conference experience by signing up to two of the most relevant issues facing their business, providing access to personalised breakout workshop sessions including:
Rethinking your Recruitment and Retraining
Worcestershire Parkway – So what?
Will I have to wait until 2040 to get a mobile signal?
Building the Green Manufacturing Machine
Solving the Challenges facing the Horticulture Sector
Promoting One Worcestershire
The conference will also provide a much larger exhibition area, with the opportunity for over 50 businesses to exhibit, allowing a wide variety of the county's local organisations to showcase their products and services.
Sponsorship opportunities are now available but limited, and already include: EBC Group, Herefordshire & Worcestershire Chamber of Commerce, Vestia, Hewett Recruitment and The Business Desk.
Gary Woodman, Chief Executive of Worcestershire Local Enterprise Partnership, said: "We're delighted to open registrations for our Annual Conference and we look forward to sharing the very latest in industry developments that are relevant in 2020. With our high-profile event taking place in a much larger venue this year, we are looking forward to welcoming an even larger audience and many more exhibitors."
Don't miss out on the latest news for the conference by following the #WLEP20 hashtag on social media.
Reserve your place at one of the county's most popular business events, visit the Worcestershire LEP Annual Conference 2020 website www.wlepconference.co.uk