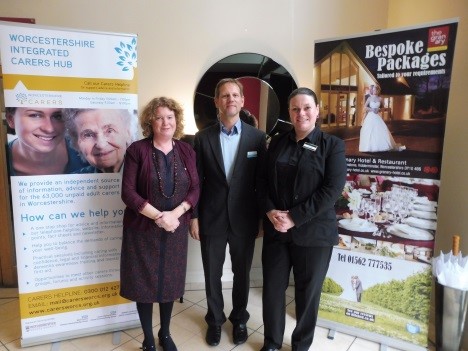 In Summary
General
|
6th December 2016
There are 63,000 unpaid adult carers in the county with 8 out of 10 carers having felt lonely or isolated due to their caring role. Please help the 2017 appeal.
In Detail
Four in 10 carers say they have experienced an injury, or their physical health has suffered as a result of caring.
10% of the local workforce are estimated to be carers.
In 2016 local charity Worcestershire Association of Carers (WAC) asked carers what their needs were. They told us 'meeting other carers', and 'taking a break from the caring role'. In November 2016 we held the first of what we hope will be many 'Carer Breakfasts'. This event was supported by Thursfields Solicitors, Winner of Law Firm of the Year at the Birmingham Law Society Awards 2016, and nearly thirty carers attended.
The event was covered in the local press and shared via the WAC twitter account with over 2,600 followers. As follow up the event will be featured in the organisation's publication 'Caring News' which has a distribution of over 11,000.
Carers told us that the breakfast:
"Has lifted my spirits considerably"
"Has made me feel very positive and encouraged"
"Has emphasized that we are not on our own and others have the same problems, sometimes worse than our own"
In 2017 WAC would like to run a Carer Breakfast event in each of the 6 districts of the county. A single event costs £500 which pays for the attendance of 30 carers , administration, venue, food and even some carer travel expenses. We have set a target of £3,000 which will offer 180 carers in the county an important break from their caring role.
To personally donate to this appeal please click here
As a business there is the opportunity to support the 2017 Carer Breakfast programme either in part or in full. If you are interested in this opportunity, please contact WAC's Deputy Chief Executive, Jim Smith, on 01905 751341, or at www.carersworcs.org.uk/Appeal/carers-breakfast-2017