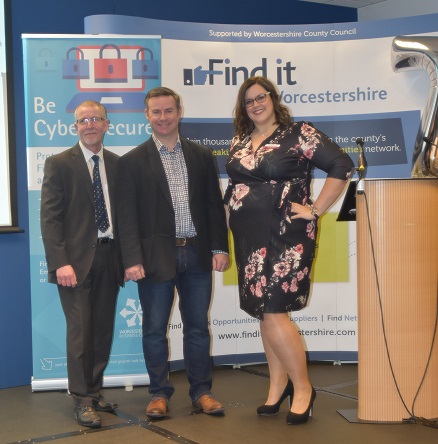 In Summary
General
|
20th February 2018
With the GDPR deadline date drawing closer, local businesses, experts and partners from across the county joined FinditinWorcestershire this morning (Tuesday, 20 February 2018) at an inaugural cyber breakfast meeting.
In Detail
Held at Sixways Stadium, the 'Be Cyber Secure to Win Contracts' event with host, Steve Borwell-Fox, Managing Director at borwell Ltd (pictured right), was supported by local cyber specialists including Sutcliffe & Co Insurance Services, ISO Quality Services, Titania, West Midlands Regional Cyber Crime Unit and guest speaker Morgan Motor Company Ltd.
The hot topic was cyber and GDPR, with an overview of the Cyber Essentials Scheme (CES), sources of help and support for SMEs based in Worcestershire and grants available up to £20,000.
Open to all businesses, over 70 attendees enjoyed a complimentary breakfast before hearing information-packed presentations and participating in an interactive Q&A session with a panel of experts.
Morgan Motor Company delivered a presentation about its cyber journey and the improvements it has made after realising the importance of cyber threats. The largest British-owned motor manufacturer had two security breaches recently, which forced it to relook at the way it handled supply chain data and general computer security.
Phil Arch, Consultant at Morgan Motor Company said: 'Our first step was to contact the Be Cyber Secure programme for help ensuring virus and malware protection was up to date and to get certified to a UK security standard.
'We have a supply chain partner network in Worcestershire of around 150 companies, so it is vital that we looked at how we were handling sensitive data. As an integral part of our GDPR compliance, Cyber Essentials gave us a clear understanding of five key controls that can prevent the majority of cyber attacks.'
Lorna Jeynes, Project Manager at FinditinWorcestershire said: 'We are delighted to have been joined by some of the sectors leading experts this morning. Titania, Borwell, ISO Quality Services and Sutcliffe & Co all joined our panel to help attending businesses identify cyber issues that affect them and get assistance with the handling of data and the upcoming changes with GDPR.
'Cyber Essentials is an effective tool which can be built on to achieve greater security in organisations all across the county.'

Delegates had the chance to network with speakers, panellists and exhibitors and discuss other topics like ISO 27001 assurance certification, insurance and other support on offer for Worcestershire SMEs.
The presentation from today's event can be viewed here >>
Be Cyber Secure programme
Worcestershire County Council's Be Cyber Secure programme is part funded by the European Regional Development Fund 2014 – 2020 in partnership with the district councils. It has been launched to help businesses improve their cyber security, providing over 12 hours of practical support, business and technical diagnostics and GDPR awareness training. It offers grants of up to £20,000 matched at 45% to replace insecure or old hardware, software and website remediation and much more.
For more information, businesses can contact the Worcestershire Business Central (WBC) team:
Email: info@business-central.co.uk
Tel: 01905 677888
FinditinWorcestershire's 7th birthday celebrations
FinditnWorcestershire also celebrated its 7th birthday at the event, highlighting the programme's achievements to date.
We now have over 8,000 business members and have held over 70 events - that's 6,000 delegates, 18,000 cups of coffee and a staggering 9,200 breakfast baps! Wow!
In addition, we have advertised £41 bn worth of opportunities to local businesses.
Thank you for all your support and keep using the site to source local products and services.
Watch this space for more from FinditinWorcestershire.