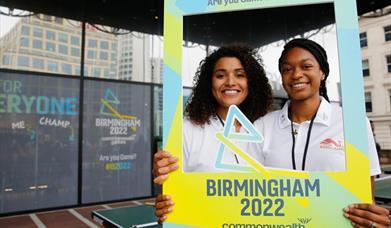 In Summary
General
|
5th February 2021
Midlands-based Cube International will develop official range of Birmingham 2022 and Commonwealth Sport merchandise.
In Detail
We are excited to announce that Birmingham 2022's official merchandise will go on sale soon, after a Midlands firm was appointed to develop a world-class Commonwealth Games product range.
Cube International will design, license, and retail a comprehensive range of official Birmingham 2022 and Commonwealth Sport products, with the first due to go on sale online in the next couple of months.
Birmingham 2022 and CGF Partnerships have appointed Cube International, with offices in both Herefordshire and Worcestershire, as the master licensee responsible for designing, sourcing, delivering and retailing licensed products at official Birmingham 2022 shops, other local and national retail outlets and via a dedicated online shop accessed via the birmingham2022.com website.
Around 1,500 products will be developed and sold, featuring Birmingham 2022, Commonwealth Sport and Home Nations branding. A first phase of merchandise, including hoodies and t-shirts, mugs, water bottles and pin badges will go on sale online in the next couple of months. Cube International will also create exclusive ranges for the Birmingham 2022 official mascot, which will be unveiled later this year.
Around 35 official retail stores will be set up, including a Birmingham city centre megastore, and at a number of other city centre locations, transport hubs, Games venues and temporary live sites. Cube International will also be responsible for building and operating the official online store.
The retail stores will employ around 300 people, with staff recruited where possible with the support of the Commonwealth Jobs and Skills Academy, launched by the West Midlands Combined Authority to generate job opportunities for and improve the skills of local people. Roles will include customer service, security and warehousing positions.
In addition to these official retail stores, other local and national retailers are being encouraged to register their interest in selling Commonwealth Games products.
Games organisers are also keen to work with West Midlands firms to develop further product lines that bring the region's creative flair to life. Retailers and manufacturers interested in finding out more can email Licensing@cgfpartnerships.com.
In line with Birmingham 2022 and Commonwealth Sport's social value commitments, the range of products and the shops they are sold in will have a strong commitment to sustainability, with a focus on limiting single use plastics, responsibly managing waste materials, and reducing carbon emissions.
Ian Reid, Birmingham 2022 CEO, said: "Our retail offering will help to bring the Games to life, building excitement as Birmingham 2022 draws closer. It will also help to support the West Midlands' economic recovery as we recruit around 300 people to work in our retail outlets in the run up to the Games.
"I'm also happy to be working with a Midlands business, Cube International, which has the global expertise to deliver this product range. I can't wait to see a whole variety of Commonwealth Games items for sale online and in shops over the next few months. I'll be first in line to buy a cuddly toy!"
Cube International is an expert sports retail, e-commerce, licensing, and merchandise business which works with international sports events such as The Rugby League World Cup 2021 and the Cricket World Cup, as well as with the NHS and brands including Sainsbury's.
Andy Moss, Cube International's Executive Chairman, said: "We are delighted to have been appointed the Master Licensee for the Birmingham 2022 Commonwealth Games. The vision of the Games and the values that they represent harmonises with Cube's working philosophy and enables us to fully collaborate across all areas to deliver an incredible experience for visitors, fans and commercial partners."