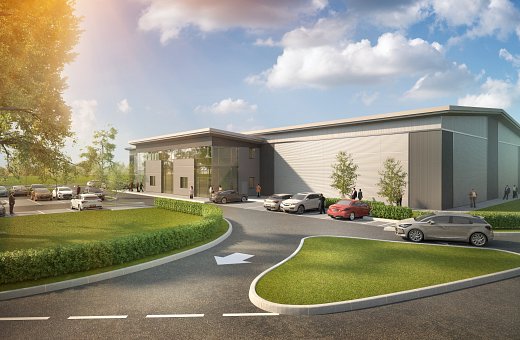 In Summary
General
|
11th September 2018
Planners have given the green light to the design and build of a warehouse and office space at Worcestershire's largest commercial estate at Hartlebury Trading Estate.
In Detail
The build at Hartlebury Trading Estate will provide 30,000 sq ft of warehouse and office space, as well as 58 car parking spaces and a yard area.
The permission means that potential occupiers interested in relocating to the site can fast-track a design and build project and could be operating from the trading estate in as little as 12 months.

Rupert Jeffries, of Collingwood Rigby, the asset manager for the Estate, said: "We take a great deal of pride in constantly improving the buildings and amenities at the site in order to meet the requirements of our occupiers, and we're delighted to have been awarded permission to construct a high-specification new building of this size.
"Demand for opportunities at Hartlebury Trading Estate is high, with the site currently experiencing record low void rates, and we wanted to be able of offer prospective new occupiers a brand new building built to the latest modern standards.
"This permission will allow us to work with our tenants to build a high-specification bespoke warehouse and office, with fully fitted turnkey opportunities available. The resulting building will have extensive parking and yard-space and benefit from the high power availability, excellent connectivity and first-class security we offer to all of our tenants."
The planning permission encompasses a single-storey steel portal framed building with an eaves height of 10m with dock and level access doors. The opportunity will include fully fitted office accommodation including raised floors, suspended ceilings, recessed lighting, carpeting and gas fired heating.
Hartlebury Trading Estate is the leading business park in Worcestershire, offering excellent access links to the UK motorway network via its close proximity to the M5 an M42. The Estate currently houses 90 businesses in 130 building ranging from 500 sq ft to more than 100,000 sq ft in a fully landscaped environment that extends to over 230 acres.
Rupert added: "Opportunities of this kind are rare – there has been a very well-documented shortage of high-quality industrial stock across Worcestershire and the West Midlands as a whole, and the chance to be involved in creating and constructing a purpose-built hub is one that we're confident will be well received.