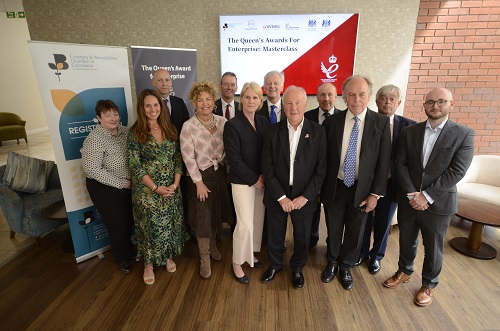 In Summary
Companies from across Coventry and Warwickshire have been urged to apply for one of the business world's most prestigious awards
In Detail
Companies from across Coventry and Warwickshire have been urged to apply for one of the business world's most prestigious awards - and we were given some top tips on how to do it – at a recent 'masterclass' in Leamington Spa.
The Warwickshire Lieutenancy, working in collaboration with West Midlands Lieutenancy, Coventry and Warwickshire Chamber of Commerce, Coventry and Warwickshire Local Enterprise Partnership, Warwickshire County Council and WMG, ran a masterclass on The Queen's Awards for Enterprise at Woodland Grange Conference Centre & Hotel.
The awards are regarded by many firms to be the pinnacle of business accolades, in part due to the rigorous requirements to receive one.
The event followed the news that eight businesses in Coventry and Warwickshire recently received The Queen's Awards for Enterprise – a very successful year for the region – and businesses were urged to follow in their footsteps.
The day was introduced by John Crabtree OBE, Lord-Lieutenant of the West Midlands, and Johnnie Arkwright, Deputy Lieutenant of Warwickshire, who highlighted the prestige of winning a Queen's Award.
Attendees then heard from Chris Robinson, managing director of awards entry consultancy Boost Awards, about the four categories of award businesses can apply for – Innovation, International Trade, Sustainable Development, and Social Mobility – and the best tactics to get accepted.
This was followed by a Q&A panel with four previous winners of a Queen's Award – Emma Heathcote-James, CEO of Little Soap Company, Ian Jamie, CEO of Staeger Packaging, Karen Lynch, former CEO of Belu Water, and Tom Meredith, commercial director of 3P Innovation.
Chamber of Commerce chief executive, and Deputy Lieutenant of the West Midlands, Louise Bennett OBE chaired the presentations and later discussion and fielded questions from the audience throughout.
She said: "There are very few awards that carry the tangible prestige that The Queen's Awards for Enterprise does, so it was brilliant to hear from those who have been successful and for our audience to receive informed advice.
"Having a Queen's Award makes such a big difference to the fortunes of a business – our panellists all found they were able to make deals much more quickly due to their clients spotting they had a Queen's Award.
"What we wanted to do as a Chamber is encourage more businesses to apply. Although the requirements are tougher than your average award, so many businesses in our region fit the criteria but aren't applying.
"We're grateful to Chris and our panellists for giving great insight into the process and their experiences, which were very useful for our audience.