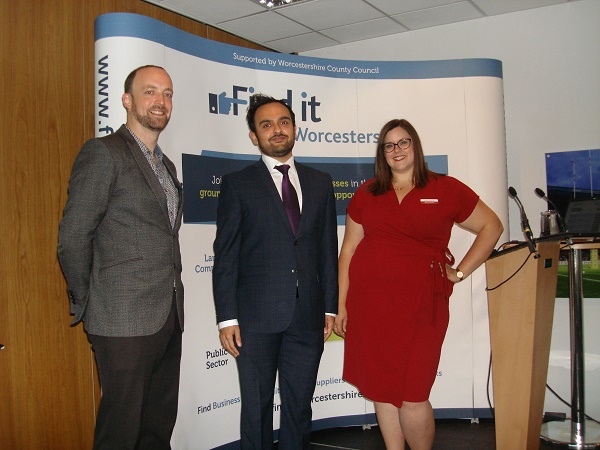 In Summary
Local businesses heard about the upcoming opportunities for SME's connected to both the High Speed Two Rail Network and other council infrastructure projects, at FinditinWorcestershire's event this morning (Tuesday 19 June 2018)
In Detail
Local businesses heard about the upcoming opportunities for SME's connected to both the High Speed Two Rail Network and other council infrastructure projects, at FinditinWorcestershire's event this morning (Tuesday 19 June 2018).
At the 'Rail Infrastructure Special' breakfast meeting, attendees heard from Worcestershire County Council about the 'Worcestershire Rail Investment Strategy' which outlines various infrastructure projects and rail connectivity including schemes like Worcester Shrub Hill station regeneration and Kidderminster railway station. Split into five key stages the strategy is designed to baseline the current rail situation in the County; assess the scale of growth expected; identify gaps and solutions; model the economic benefits of these solutions, and; prioritise the investment to achieve maximum value for money.
Speaker, Martin Rowe, Transport Strategy Manager, discussed its progress and explained that the strategy proposes four conditional outputs for rail service development which would deliver £50.42m GVA per annum, and 1,151 new jobs in the county.
Martin welcomed special guest presenter, HS2 Ltd who presented about HS2's vision, how it will impact the West Midlands and Worcestershire, when it will be buying and how suppliers can get involved.
Also on hand to talk to local companies was Laing O'Rourke and Murphy – LM joint venture, working to deliver the northern section of HS2's phase one enabling works. Supply chain manager, Sean O'Brien talked to attendees one-to-one about how to access opportunities with them.
Lorna Jeynes, Worcestershire County Council said: "Infrastructure took centre stage at this morning's event and our delegates heard both of the opportunities available on their doorstep from Worcestershire County Council, and how they could join HS2 Ltd's supply chain for the UK's new high speed rail network. HS2 is the largest rail construction project for generations and we want to encourage local businesses of all sizes to be aware of the chance to compete for the many contract opportunities that are being offered through the construction phase and beyond."
HS2 is creating thousands of contract opportunities in its supply chain. Take the time to familiarise yourself with the business section of the HS2 website at www.gov.uk/hs2. In particular, download the HS2 Supplier Guide and FAQs to find out what HS2 is buying, when, how they are engaging with the supply chain, and where you can access opportunities.
If you would like to be considered as a supplier to the LM joint venture, please contact them via the CompeteFor portal