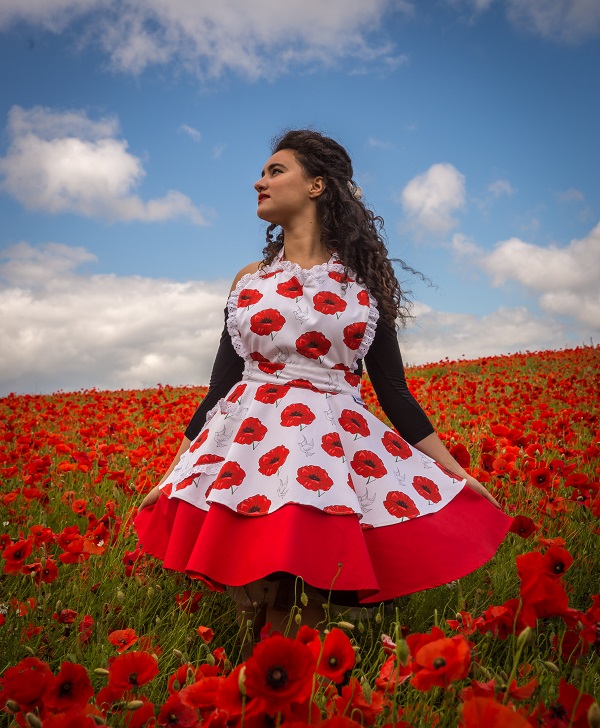 In Summary
General
|
25th January 2017
A Worcestershire textile designer who creates retro-style aprons using her own fabric designs is cooking up the next stage of growth after meeting her initial export plans
This is a featured news article.
In Detail
Gaena Martin, who launched The Sunday Girl with her partner Noor Ali from her Kidderminster home nearly three years ago, is set to launch her own dress collection after the retail success of her kitsch 1950s-style aprons.
The textile designer has worked with the Department for International Trade team in Worcestershire for more than two years to develop contacts overseas, learn about exporting, set up her website for international sales, and source distributors.
Alison Avery, the international trade adviser in the Worcestershire team who is working with Gaena, even hand-delivered aprons and had a meeting with a commercial officer at the Department for International Trade office in Melbourne, Australia, earlier this year when she went on holiday as a way of introducing the brand.
Now with 40% of The Sunday Girl sales going overseas – mainly through her website to individuals but also via a distributor in New Zealand – Gaena is now stepping up her strategic plans for growth both at home and abroad.
She said: "We've been working very closely with the international trade team and their help has been invaluable to us because it's given us the confidence to keep going and to think big. The business is doing well now, and while we sell to individuals all over the world, we're now in a good position to step up our plans and work with distributors so that we can sell our goods in overseas stores.
"We're also well ahead in our plans to launch a dress collection, using the same fabric designs, in the first half of next year, which is an exciting development for us. We always had plans to diversify but when customers started asking us to design dresses, we knew it was something we had to do."
Gaena plans to use the same mill in Pakistan that produces the high quality cotton drill, screenprints it and makes the aprons to her exacting specification for her dress fabric. She and Noor are also hoping to move their business to a warehouse early next year to cope with the increasing demand for The Sunday Girl products.
Christine Hamilton, interim regional director of the Department for International Trade West Midlands, said Gaena's example proved that even micro businesses can achieve global success.
She said: "We work with businesses of all sizes, helping them to achieve their dreams of selling their goods and services abroad. There is a huge demand for British goods and The Sunday Girl demonstrates that even the smallest of entrepreneurial enterprises can set their sights high.
"Our Exporting is GREAT campaign is helping to encourages all businesses to be ambitious and grow their brands both at home and overseas."
The Sunday Girl will be attending FinditinWorcestershire's next event......
Any business that wants to find out more about exporting should visit www.exportingisgreat.gov.uk or book a place at FinditinWorcestershire's free breakfast meeting on Tuesday 21 February, to find out how exporting could be the way forward for your business. We will also be joined by The Sunday Girl herself, and a number of international trade experts and advisers from UK Export Finance, who will all be available throughout the morning for you to have one-to-one meetings with. BOOK NOW >>