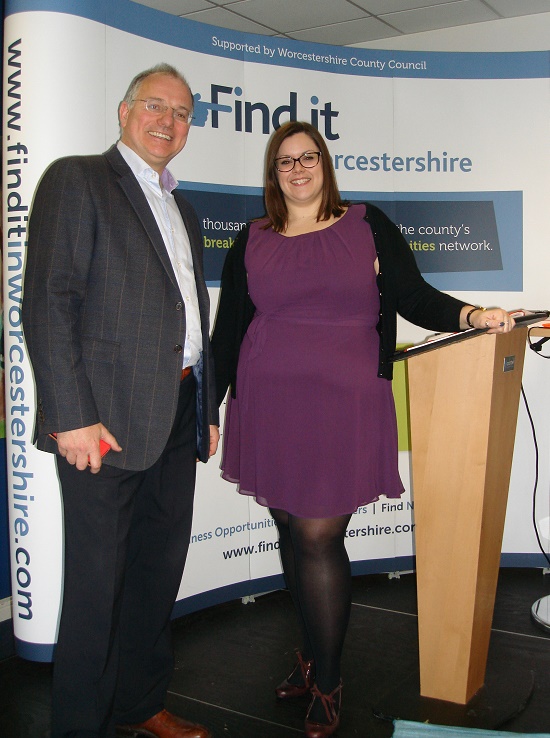 In Summary
General
|
20th March 2018
FinditinWorcestershire members didn't let the cold weather stop them from setting their alarms this morning to attend March's breakfast meeting all about sales.
In Detail
'Break the rules and win more business' was held at Sixways Stadium today (Tuesday 20th March) with expert speaker and Chairman of the Institute of Sales Management, Nigel Dunand.
It was the first business support event of 2018 for the countywide business network. Delegates listened to a lively, interactive presentation with the latest insights into lead conversion and achieving more sales.
Sharing his top tips and practical steps, Nigel Dunand, Managing Director of Sandler Training, talked about driving sales and how to use a non-traditional and counter intuitive sales process.
Lorna Jeynes, Project Manager of FinditinWorcestershire, said: "Making sales is essential for every local business, so we were delighted to welcome Nigel and his expertise to FinditinWorcestershire. I have no doubt that his advice will help our members as we are advertising more and more supply opportunities every day. This is a great way to offer a helping hand to companies throughout the county."
Delegates also took part in an open networking session, where they could put their sales skills to the test. A small exhibition and a complimentary breakfast rounded off the event.
Amongst the exhibitors was Findit member Border in a Box, who was recently announced as the winner of a £12,000 prize for a WINN challenge called 'Make it Happen!'
The innovative garden border design kit developed by Nikki Hollier (pictured right), provides a professionally designed garden border using ready-made templates including plant lists, photos, flowering lines and seeds. Each border is easy to do, can be created in less than a day and comes without the designer price tag.
Nikki commented: "The idea started when I moved into a new property and the garden was a boring patch of turf surrounded by a wooden fence. Like most new home owners, the garden was the last 'room' to be made-over mainly due to budget and not knowing where to start, so I retrained as a garden designer in 2015 and created my first show garden in 2016 and won a silver medal and the People's Choice Award.
"From here, I created Border in a Box a series of garden design templates to help everyone easily create a pretty garden and take the guesswork out of what to buy and what plants work well together - it's all included in an easy to follow plan and can be achieved in less than a day, which is great for people with busy lives or are new to gardening. All the plants I've used are easy to take care of too!"
Pershore-based Border in a Box, has also been awarded Garden Product of the Year by Country Homes & Interiors magazine and successfully sells the ready-made garden at online marketplace, Not On The High Street.
Read more about Border in a Box here >>