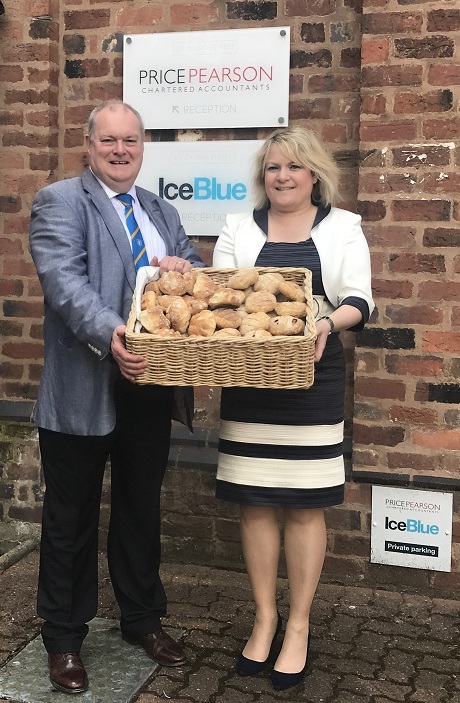 In Summary
An historic Midsummer tradition dating back to the 18th Century has taken place today in Kidderminster
In Detail
This year's hosts, IceBlue Marketing & Design Ltd has delivered a basket of two-penny plum cakes and farthing loaves to the business residents of Church Street, as part of the town's oldest tradition.
Referred to in various books on English folk customs, the tradition goes back as far as 1611 and was codified by former Kidderminster resident, John Brecknell, in his will in 1776. Although the street is no longer a residential area, local businesses have continued with the tradition of distributing the bread each year, baked and supplied by local business, Tony's Bakery.
Also included in the celebrations, is a 'Supper of Peace and Good Neighbourliness', which will be held at La Brasserie this evening for the street's businesses and includes another time-honoured ritual of smoking tobacco in clay pipes and drinking ale provided by local brewer, Pershore Brewery.
Mr Nick Hughes, Secretary and Trustee of the John Brecknell Trust and partner at Church Street's Painter's Solicitors, joined IceBlue to hand out the cakes and meet the residents to explain the importance of continuing the origins of both the supper and the day-time activities.
Jenny Long, Managing Director of IceBlue said: "It's great to be part of a tradition that has lasted for such a long time. It provides an opportunity for the residents of Church Street to all get together as a business community and we are delighted to host this year's celebrations."
The Trust claims to be one of the oldest of its kind in the world and continues today, over 400 years since it was established.
IceBlue Marketing & Design Ltd is partner and supplier of FinditinWorcestershire, working closely with Worcestershire County Council to deliver supply chain opportunities to local businesses. As part of the software development and digital marketing agency, clients also include Sandwell Leisure Trust, Black Country Living Museum, Betaden, GBSLEP and Black Country Chamber of Commerce.
Pictured (l-r): Nick Hughes, Painters Solicitors and Jenny Long, IceBlue Marketing & Design Ltd