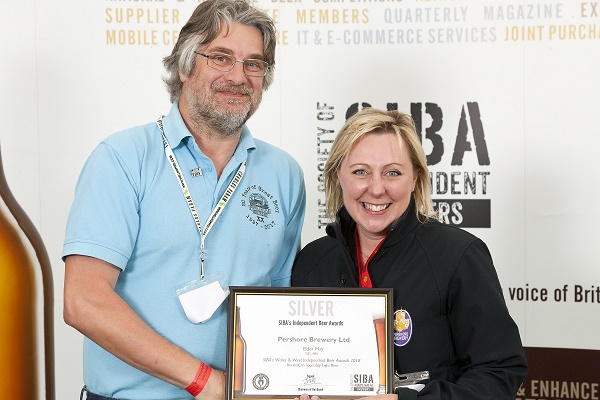 In Summary
Local brewery, Pershore Brewery Ltd has scooped silver and bronze at the SIBA Independent Beer Awards 2018.
In Detail
FinditinWorcestershire member, Elizabeth Barnett, Director at Pershore Brewery Ltd, held off strong competition to take home silver in the Bottle/Can Speciality Light Beers category and bronze in the Cask Speciality Mid to Dark Beers category in the top awards in SIBA's Wales & West Independent Beer Awards.
The event held at Ludlow Festival, judged a huge range of beers across a number of styles before the winners from each category were announced.
SIBA represents the very best beer from the region's independent brewers in its hotly contested awards where entries are judged by 'blind tasting' panels of fellow brewers and industry experts including Chris Gooch of Teme Valley Brewery.
Pershore Brewery's winning products were Elder May, a 3.8% Elderflower Blonde Ale and Black Moon, a 5% Ginger and Lemongrass Porter.
Elizabeth Barnett said, ""We are thrilled to have received both Silver and Bronze awards at the SIBA Wales and West Competition in Ludlow. We have worked incredibly hard in our brewing processes and ales, and to have recognition of this from other brewers and our peers, is incredibly rewarding.
"We work with some amazing suppliers and we would also like to thank all of our customers for their continued support. We are developing more ales for the summer season, and have a brewery tap open on Friday afternoons from 3 o'clock."
Pershore Brewery, based in the heart of the local business community, is a thriving microbrewery specialising in real and craft ales. It is owned and run by husband and wife team, Sean and Elizabeth Barnett, who set up the brewery after a love of home brewing led them to need bigger premises.
For further information please see www.pershorebrewery.com
Photo: Elizabeth Barnett, Pershore Brewery and Chris Gooch, Teme Valley Brewery.