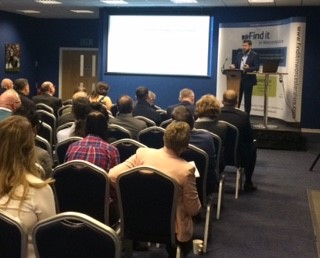 In Summary
General
|
19th October 2017
Attendees at FinditinWorcestershire's latest breakfast meeting this week were given valuable knowledge on how to write the perfect tender
In Detail
Our 'Top Ten Tips to Tendering workshop on Tuesday 17 October gave members an insight into the world of successful tender writing and gave crucial tips on how to win more work.
Our expert presenter, Sebastian Yarwood, director at SalesLeap delivered an informative presentation, which offered practical advice, through his ten simple, but smart top tips on how to win more business through successful bid writing.
With 20 years' experience in tender writing and process improvements, Seb gave his expert knowledge and advice, providing a useful check list to work from. He reinforced the importance of being organised and emphasised how vital it was to plan ahead. Having an innovative approach, and adding supplementary value could be the winning factor.
Lorna Jeynes, Business Growth Manager at Worcestershire County Council said "We were delighted to see so many local businesses attend our free event today, which shows how keen our members are to develop and improve their approach to winning more business. Seb gave us all some useful tips to take away which I hope everyone will put into practice."
Afterwards, Seb gave extra one-to-one advice, one more step towards submitting a successful bid.
If you would like to speak to Seb, you can contact him on 07968 815866.