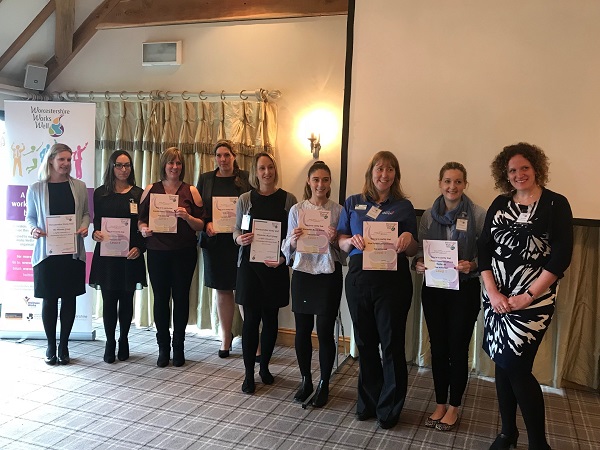 In Summary
General
|
4th December 2017
Herefordshire and Worcestershire Chamber of Commerce celebrated along with 100 other businesses at Worcestershire Works Well bi-annual event on 22 November 2017 at Deer Park Hall, after achieving various levels of accreditation.
In Detail
The event saw local companies come together to discuss the importance of health, wellbeing and productivity in the workplace, and provided information about the potential benefits of taking part in the Worcestershire Works Well programme.
The initiative aims to improve employee health and wellbeing across Worcestershire and is delivered as a partnership between the private, public and voluntary sector.
There are three levels of accreditation to achieve and a business should meet specific standards in nine areas including smoking and tobacco control, healthy eating and mental health and
wellbeing.
November's event was a big success, with each business presented with their certificate by Laura Hewett, Commercial Director at Hewett Recruitment.
Citizen Communications Media Ltd, Worcester Bosch Group and FinditinWorcestershire supplier, IceBlue Marketing and Design Ltd were among the businesses achieving their level one accreditation.
The event also featured motivational speaker Rob Holcroft, an integrative therapist at Superhumans, followed by lunch, networking, an exhibition and a free clothed massage from Go Wellbeing.
A huge congratulations went to Bromsgrove District Council and Redditch Borough Council for winning the Southco Outstanding Achievement Award.
About the scheme
Worcestershire Works Well is a FREE accreditation scheme designed to support businesses to improve the health and well-being of their employees. Improved employee health and well-being has been shown repeatedly to improve profitability and productivity of businesses.
With most adults spending a substantial proportion of their daily lives in the workplace, employers can play a vital role in improving the health and well-being of the work force. This may include ongoing workplace health promotion, raising awareness of particular health issues and supporting employees to make healthier lifestyle choices.
To find out more, visit: http://www.worcestershireworkswell.co.uk/
Pictured right: Gemma Cook, IceBlue Marketing and Design Ltd and Laura Hewett