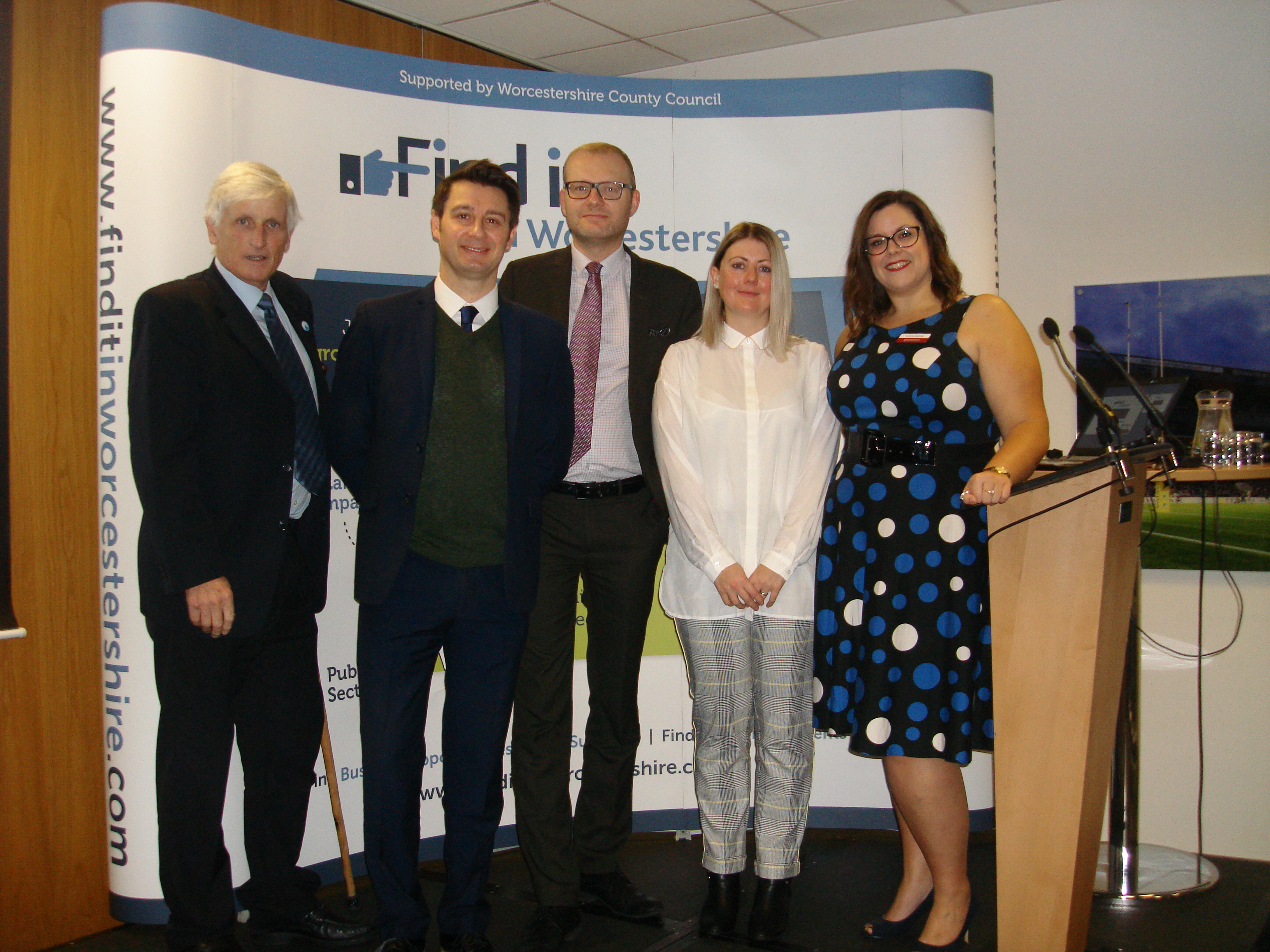 In Summary
General
|
16th October 2018
Businesses across Worcestershire were invited to FinditinWorcestershire's latest breakfast event to hear from Worcestershire County Council and Worcestershire Local Enterprise Partnership about its vision for growth in the county.
In Detail
Over 80 attendees arrived at Sixways Stadium this morning (Tuesday 16 October 2018) to hear from keynote speakers, Cllr Ken Pollock, Cabinet Member with Responsibility for Economy and Infrastructure and Stuart Emmerson, Invest in Worcestershire Manager at Worcestershire LEP.
Local SMEs were given the opportunity to meet with key buyers from local house builders, Sanctuary Housing, Bovis Homes and Accord Group, as well as talking one-to-one with Highways England and Homes England.
Delegates heard about how the Worcestershire 5G Consortium is leading the way for UK digital transformation, and how Worcestershire's reputation for becoming a testbed trail blazer for technology and investment is representing the future of business.
Cllr Ken Pollock, Worcestershire County Council illustrated that securing inward investment, government funding and setting out major development plans for the region, produces an array of development opportunities in key sectors. The positivity continues to surround the area, from the development of the Science Park, Worcester Six and Redditch Gateway projects to countless housing schemes.
He said: "It was fantastic to be able to speak to so many businesses this morning. The County Council is committed to being 'Open for Business' and creating an environment which supports and enables growth in the County. We have an ambitious infrastructure plan with the Carrington Bridge and other road network developments, as well as the development of Worcestershire Parkway, this alongside our other work around skills, innovation, business support and of course the roll out of Superfast Broadband and the 5G test bed which puts Worcester on the map nationally.
"To date, we have seen 5% growth in GVA – higher than the national average and we are very proud to be part of a Partnership that strives to drive our passion and ambition for the County forward. Events like today show just how much we have to get excited about."
Working in partnership with the local authority, Worcestershire Local Enterprise Partnership supports sustainable growth and employment in the county and Stuart Emmerson explained its long-term vision and objectives for Worcestershire.
He said: "The County has the development opportunities, the skilled staff and the desire to grow. We have seen the perception of Worcestershire change over the last few years and the County has become an exemplar in enhanced connectivity and productivity.
"The Midland Engine has, for the first time, overtaken London as the chief home of Britain's private companies, with businesses like Worcestershire-based Gtech leading the way and demonstrating the advantages of locating to the region."
"Our job is to connect businesses with key partners, help the existing businesses to grow and attract new businesses into the county. Worcestershire is a great place for collaboration and represents the future of business."
Worcestershire's new tech accelerator, Betaden was on hand to talk about its new, dynamic launch pad for tech entrepreneurs and scale up businesses. Funded by Worcestershire Local Enterprise Partnership (WLEP) and supported by leading local technology and cyber businesses including Titania and DeepSecure, BetaDen, will offer up to 10 individuals, small to medium sized firms or scale-ups a nine-month programme of intensive support, all designed to build their idea and make it ready for market launch, or catalyse the growth of their existing business.
Our main speakers were also joined by Nick Wells and Heather Wilcox from Highways England and featuring in the exhibition were Main Man Supplies, Sentinel Partners, simPRO Software and Kidderminster-based Eco2Solar.